(10/2021) COVID 19 Protocol to Enter Israel for Individual Tourists
As tourism to Israel is gradually being resumed, I'm happy to announce that from November 1, 2021 individual tourists will also be permitted to enter the country! Nevertheless, there is a clear protocol that must be followed to enter Israel. The protocol might change, but these are the current requirements to the best of my knowledge:
Two pre-flight requirements
You must be vaccinated with one of the following vaccinations: Pfizer, Moderna, Astra Zeneca, or J&J – and the vaccination/booster must have been administered six months or less before entering Israel.
72-48 hours prior to boarding your flight you have to take a PCR test.
Only if your PCR test result is negative, can you submit an online entry statement to Israel – and no earlier than 48 hours before the scheduled time of departure. In the online entry statement, you will be required to:
Provide your identification information, proof of vaccination, and a negatvie PCR result
Specify all countries you have visited in the past 2 weeks
Indicate the address of the accommodation where you will be in quarantine
Note:
EU Citizens can upload the file of their "Green Certificate"
US Citizens have to upload proof of their vaccination card and booster shot if needed.
Depending on the information you provide and your health declaration form, you'll either be cleared or denied boarding. Within about an hour you'll get the notification of approval or refusal. If you don't meet all of the requirements listed in the health declaration form, you won't be allowed to board your flight. Contact your airline in this case. If you are approved, print or save a digital copy of your clearance (it's best to do both). Present it when you check in and upon arrival.
Here is what the approval file looks like: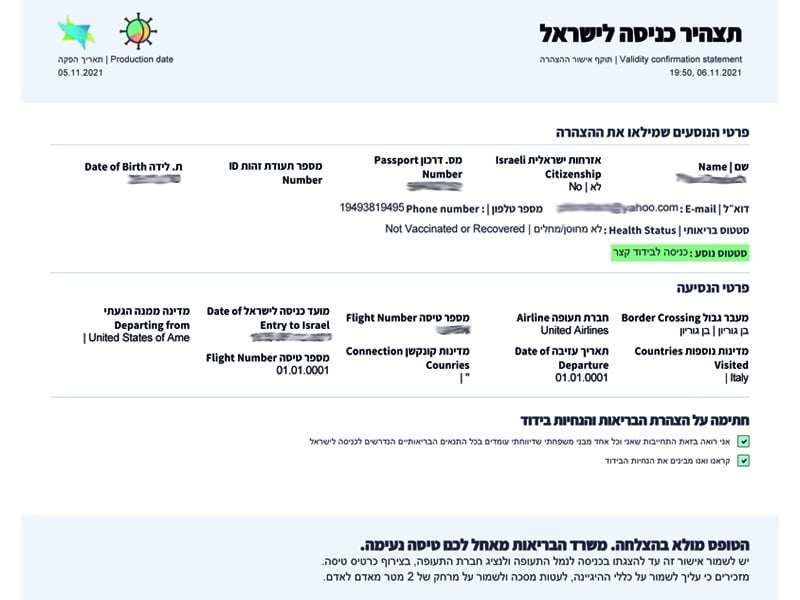 Arrival Protocol
Upon arrival you will have to do another PCR test at the airport. Then you drive to the hotel or go by public transportation (I know it doesn't make sense), and wait in your room for your PCR results. It usually takes about 10 hours to receive the PCR results by email / phone. If your PCR result is negative, you will finally get the Israeli Covid 19 "Green Pass" which gives you the right to travel around Israel freely.
Here is what it looks like: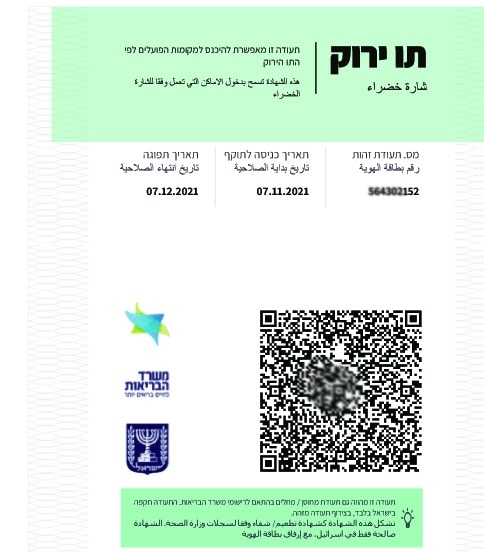 Keep a screenshot of it on your phone, as you will probably be asked for it at restaurants and museums.
Departure Protocol
72-48 hours before departure you must take another PCR test so you can board your departure flight. It can be done at many locations and costs about NIS 80-100.
Ready to travel to Israel? Contact us and lets start building your own amazing getaway to Israel!
Contact us to inquire more about a private tour to Israel: