Abraham's Well, Beer-Sheva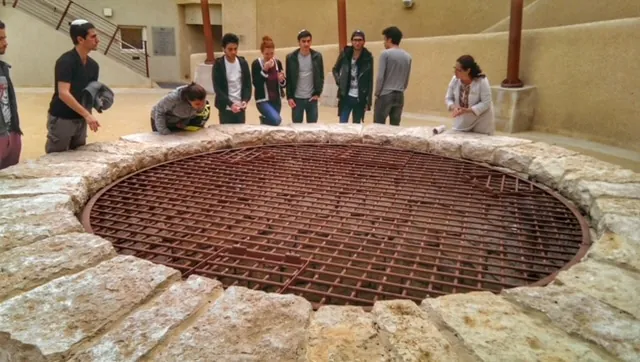 'Abraham's Well' is an historical water well at the south-eastern end of Beer-Sheva's old city.
An innovative visitor center built around it presents Abraham, the spiritual forefather of the 3 Abrahamic religion, and the well's role in his proclamation of Monotheism.
Abraham's Well in the Bible
After the birth of Isaac, the bible records a dispute between Abraham and Avimelech over the use of a well. They settled it by a festive meal and acknowledgment of Abraham's possession of the well, which he dug. Avimelech returned to the land of the Philistines, and Abraham planted a tamarisk tree next to the well. The well became known as 'Beer-Sheva' (in Hebrew: Well of the oath, Genesis 21:22-34). Later, his son Isaac continued to fight for his possession of the well with the Philistines (Genesis 26). A generation later, Jacob and his family immigrated from Beer-Sheva to Egypt (Genesis 46).
Abraham's Well and Modern Beer-Sheva
Beer-Sheva was inhabited in all subsequent periods, and additional wells were dug along the Beer-Sheva valley. Nevertheless, 'Abaraham's well' retained its famed attribution to Abraham. In the early 20th century, it marked the cornerstone for a new city, today's Beer-Sheva old city. Today the well is not in use, but it is still a central landmark of modern Beer-Sheva, the biggest city in southern Israel.
Touring Abraham's Well
In 2014 a new visitors' center was created around the well, whose design echoes a Bedouin tent. It presents an interactive 3D audio-visual experience that follows the life of Abraham. It especially focuses on his hospitality, on being the first recorded peace maker, and the forefather of the 3 Abrahamic monotheistic religions. The site is open Sunday through Thursday, 9:00 to 17:00. The tour takes about 45 minutes. It is recommended to book the visit in advance, and there is an admission fee. The well itself is 12 feet wide, and 42 feet deep. 19th century surveyors recorded an Arabic inscription next to the well, dating to 1112 CE. An old tamarisk tree next to the well recalls the one that Abraham himself planted (Genesis 21:33).
A visit to the site can be combined with a day tour to Beer-Sheva and the Negev.
"I find it mind-boggling to think that perhaps around this very well Abraham began, for the first time, to speak about a belief of a single god", team member, Danny "the Digger" Herman
Contact us to inquire more about a private tour Abraham's Well: