The 'Treasury' (Al-Khazneh)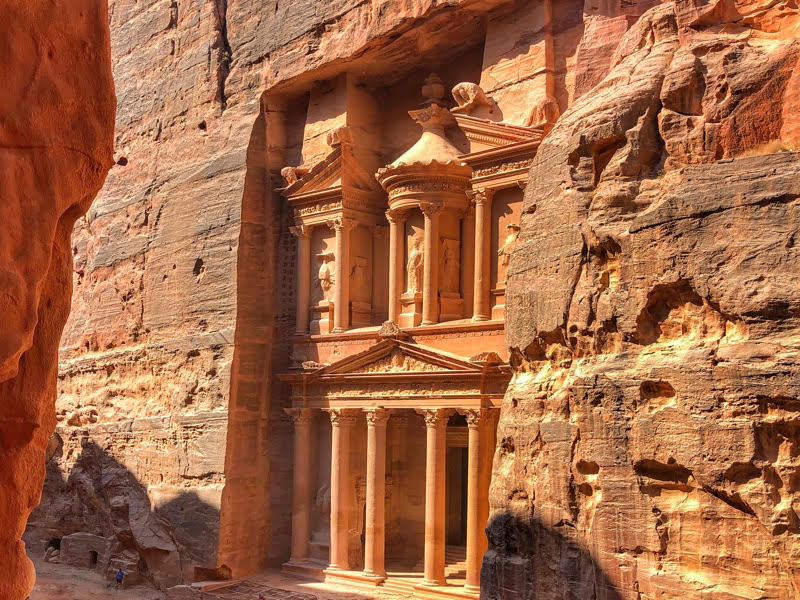 The most iconic monument of Petra, the 'The Treasury' (in Arabic: Al-Khazneh) is the local nickname of the magnificent tomb façade erected at the end of the Siq and the main entrance into Petra. The stunning mausoleum is almost 130 feet high, and its state of preservation is mind blowing. Its unique and eclectic design brilliantly combines elements from Greek, Roman, Nabatean, Egyptian, and Syrian architecture. It also depicts in reliefs Nike, Isis-Tyche, and the Dioscuri. Unfortunately, no inscription is preserved to indicate if it was a tomb of one of the Nabatean kings, or perhaps of a Roman governor. Recent excavations indicated it is built on top of an earlier tomb complex.
Called in Arabic 'Pharaoh's treasury', by local Bedouin tradition the funerary urn that crowns the monument contains great treasures of a pharaoh. Bullet holes scarring the stone urn attest to vain attempts in the past to shoot it down and confiscate the legendary treasures. The monument also starred in Holywood. In Indiana Jones and the Last Crusade it was presented as the last resting place of the Holy Grail. Petra's 'Treasury' is definitely a treasure, and one of the most iconic monuments from the Classical periods. It is worth every effort!
Reaching Petra's 'Treasury' can be combined with a tour to Petra.