ATV Tours in Israel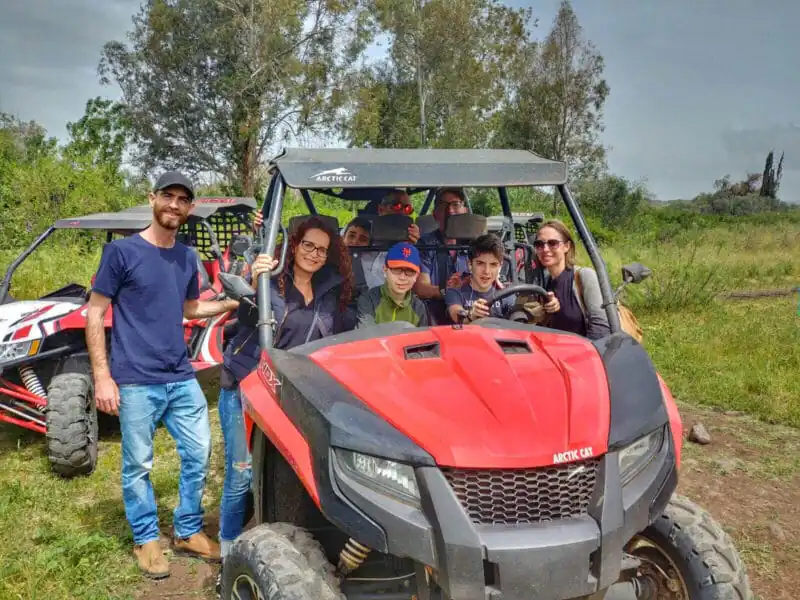 Even if you have toured Israel in the past, having an ATV tour is a totally different experience. With an ATV the tour starts where the paved road ends, and the views and sites you reach are truly amazing. Whether it's the border with Syria, the desert trails of the Ramon Crater, the hidden gems of the Shefelah, the sand dunes of Wadi Rum, or the top of Judea mountain ridge in Gush Ezion, these extreme off-road vehicles are sure to provide an unforgettable tour experience.
All drivers must present a valid driving license and passport.
An ATV tour is especially recommended in the winter and spring, when the drive includes passages over streams and mud puddles.
Below are a few suggested routes:
ATV Tour in the Judean Hills (Shephelah) – A 2 hours' fun ride in the area of Beth-Shemesh and Burma Road, across water streams, vineyards, and JNF forests.
ATV Tour in Gush Ezion – A 2 hours' drive along the Judean Mountains, combining enchanting landscapes, historical roads, and an optional stop at a local spring.
ATV Tour in the Golan Heights – An extreme 2 hours ride close to the border with Syria, driving through former Syrian military barracks and the beautiful natural surroundings of the Golan Heights.
ATV Tour by the Sea of Galilee – A 2 hours drive next to the flood plain of the Jordan river into the Sea of Galilee. The off-road tour included crossing some water streams and having a coffee break in the beautiful, lush environs of the river's estuary.
ATV tour in Ramon Crater – An exciting 2 hours extreme driving through rugged landscape of the Ramon Crater, reaching fascinating and unique geological formation, and breath-taking viewpoints.
ATV tour in Wadi Rum – If traveling in southern Jordan, don't miss the enchanting ATV tour experience, traversing across virgin sand dunes and in enchanting lunar-like landscape.
Any one of these ATV tours can be combined in a private tour in Israel and/or Jordan.
Please that we are NOT an off-road tour agency. We offer full day private tours, that can combine a 2-4 hours' ATV rides. If you are interested only in an ATV tour, please contact the supplier directly.
Contact us for a private tour of Israel that will include and ATV ride: