Jesus' Baptism Site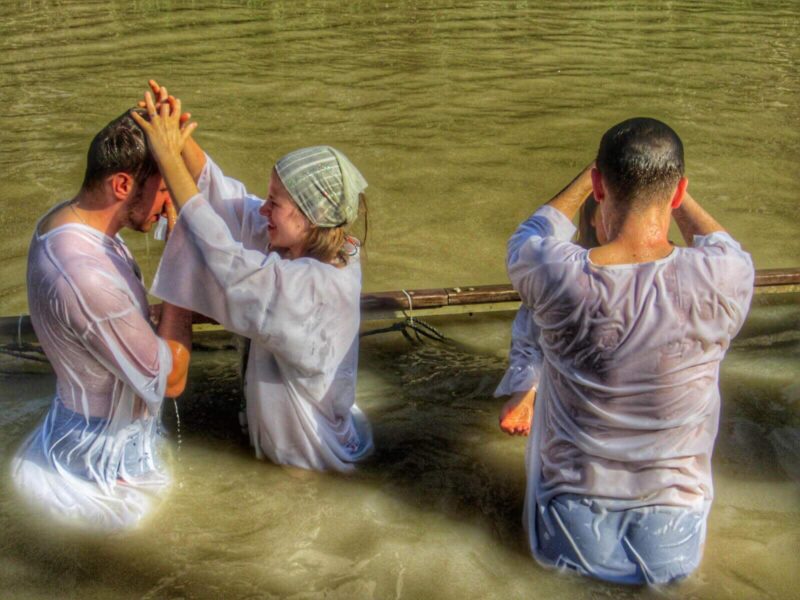 Located 4 miles east of Jericho, Jesus' traditional baptism site is a quaint spot along the river's flow, close to its estuary into the Dead Sea. Venerated since the 4th century, the baptism site is one of the most popular Christian pilgrimage destinations in the Holy Land.
History of the Baptism Site
The Jordan river is about 200 km long. In Christianity it is famous as the place where Jesus was baptized. The New Testament does not provide enough details to determine where exactly the baptism took place, but tradition holds that it was near Jericho. Since the Byzantine period (4th century CE) Christian pilgrims documented visiting this site. Some recorded a stone pillar topped by an iron cross, marking the "exact" spot of the baptism. Furthermore, monasteries along the road from Jerusalem to the baptism site offered pilgrim services, and later Crusader fortresses guarded the route. Today the western Bank of the Baptism site is under control of the State of Israel, while its Eastern side is part of the Hashemite Kingdom of Jordan. For many years the area was closed to the public as it was the border between the two countries in war, but since the peace treaty in 1994 both sides have been developed for tourism. In 2011 the Israeli side was officially opened to the public.
See a video presentation of the site by 'Danny the Digger', here.
Touring the Baptism Site
The Baptism site near Jericho is accessed by a narrow-paved road, passing between minefields and anti-tank trenches. These are stark reminders of past times when Israel and Jordan were in war. On the hill viewing the baptism site a Greek-Orthodox monastery is been reactivated in recent years, to serve pilgrims again. The Baptism site itself is maintained by the state of Israel. Public showers and changing rooms enable pilgrims who wish to conduct baptism ceremonies here, in the Jordan River. The site is also believed to be where the Israelites crossed the Jordan River to enter the promised land, and the place of the ascension of Elijah to heaven. Near the baptism site one can also visit Deir Hajla /Gerasimus Monastery and the Laura of Gerasimus. These two sites are a great illustration of the Byzantine period when Monasticism flourished in the Judean Desert and along the road from Jerusalem to the Baptism site.
A tour of the Baptism Site can be combined with a guided day tour of the Dead Sea.
Contact us to inquire more about a private tour to the Dead Sea: