The Pools of Bethesda
The pools of Bethesda is a Holy Christian site, located in the Muslim Quarter of the Old city of Jerusalem. Maintained by a Catholic order, the site is commemorating a miraculous healing of a paralytic by Jesus.
History of the Pools of Bethesda
The Gospel of John records several events in the life of Jesus that are not documented in the other Gospels. For example, turning water into wine during a wadding in Cana. It is a story documented only by John. During his stay in Jerusalem, the Gospel of John exclusively records Jesus healing a person, at a site called Bethesda:
"Some time later, Jesus went up to Jerusalem for a feast of the Jews. Now there is in Jerusalem near the Sheep Gate a pool, which in Aramaic is called Bethesda and which is surrounded by five covered colonnades." (John 5:1-3).
The name Bethesda means 'house of mercy' or 'house of grace'. The name could stem from the reputation of the site as a place of healing. Indeed, the Gospel describes how paralytics were cured at the pools of Bethesda, and Jesus heals an invalid who could not reach the healing water. The pools of Bethesda were identified in the Byzantine period (4th-7th Century CE) at a complex of the two large size pools north of the Temple Mount. A large church was constructed over the dam between the two pools, and it was dedicated to Mary, mother of Jesus.
In the Crusaders time (12th-13th Century CE) the pools of Bethesda were again venerated. A small chapel was built over the dam, yet next to it a Romanesque style large church was constructed as well. It was dedicated to the birth and childhood of Mary, and was named after her mother, Saint Anna. Unlike many other churches, this church was not destroyed by the Muslims after the expulsion of the Crusaders, but it was turned to a Muslim religious school (Madrase). The Turks used the church as a stable, and in 1856 it was given back to the Christians.  The church was renovated and reactivated, and archaeological excavations were carried out at different parts of the site.
Touring the Pools of Bethesdah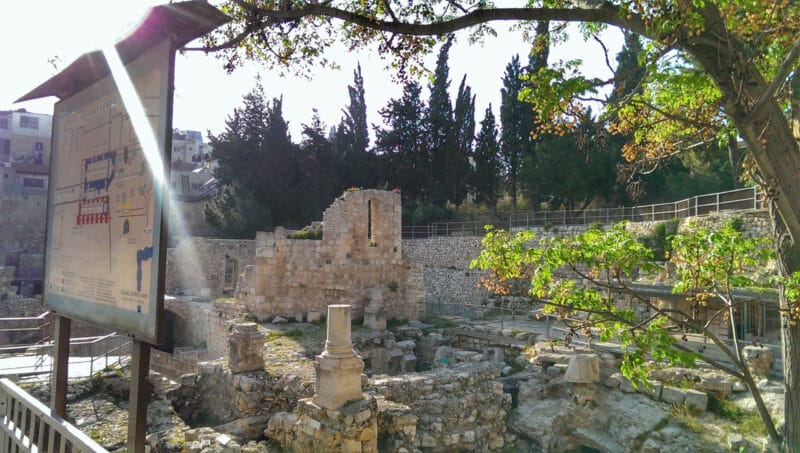 A visit to the site today enables pilgrims to see archaeological remains of the Pools, and the Byzantine and Crusader churches built over them. The archaeological evidence suggest that in the time of Jesus the pools functioned as a public ritual bath (like the "Pool of Siloam") which enabled large crowds to immerse and purify before entering the Temple Mount. Surprisingly, the archaeologists uncovered at site also remains of a Roman Asklepion. That means that the site was reputed for its healing powers also by the Pagan Romans, as also echoed in the New Testament. The Romanesque style Crusaders church next to them, complete and functioning now again, is also very impressive.
A visit to this site can be combined with a day tour of Jerusalem.
Contact us to inquire more about a private tour of Jerusalem: