Tour to Bethlehem
Located 4 miles Southeast of Jerusalem, Bethlehem is reputed as the birthplace of David, and of Jesus. Now days, under Palestinian control, Bethlehem is a mixed city of Muslims and Christians that is visited by many pilgrims, eager to see the church of Nativity and Jesus' birthplace. The city also offers many souvenir shops, and local eateries, offering local Arab cuisines.
Touring Bethlehem
Most visitors to Bethlehem will settle with a quick view of the church, but it is recommended to give some time to probably appreciate this special destination: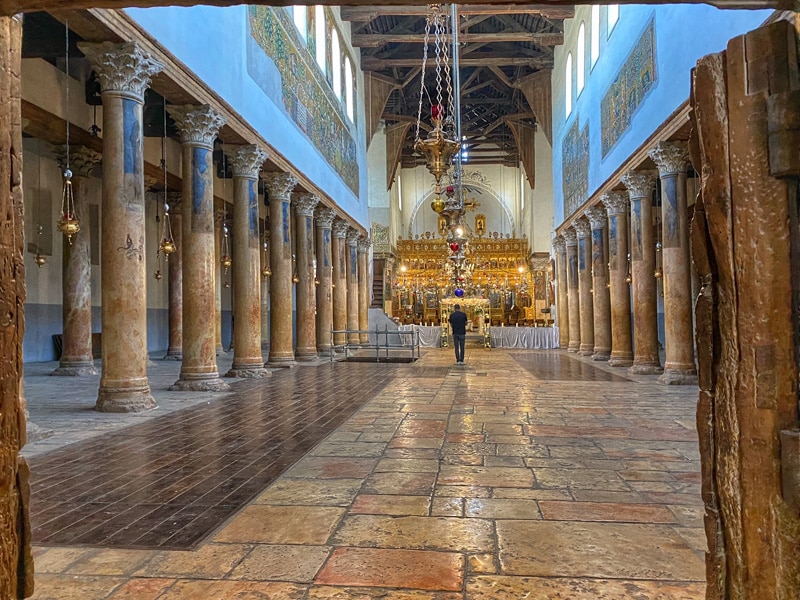 Church of the Nativity – One of the Holiest sites in Christendom, the church is said to be built over the cave where Jesus was born and next to the manger where he was places (Luke 2:7). Today, the church still has a single narrow entry to avoid the Ottomans horseman from entry. Inside dreamy light illuminates pillars painted with Crusaders era images of saints, and Byzantine period mosaic floors. A single stairway leads into the crypt that marks Jesus' birth.
The Shepherds' Fields – The site that marks where the shepherds "kept watch over their flock" when an angel announced on the birth of Jesus (Luke 2:8-15) is identified in the valley east of Bethlehem. A tent-shaped chapel, full of grandeur, commemorates the event. It is built among caves of the type used to this day by the local Bedouins as dens.
The Milk Grotto – A cave carved in the white chalky rock near the church of Nativity is said to be where Mary nursed baby Jesus. By local tradition, a drop of her breast milk dropping on the floor caused the whole cave to turn white. Developed into a church, the cave is maintained by the Roman-Catholics.
Herodium – Perched on a man-made hill 3 miles southeast of Bethlehem, Herodium was one of Herod's desert fortresses, and his burial site. After 40 years of research, the tomb was found in a surprising location, and contained surprising finds. With its remodeled visitor center, Herodium is one of the most exciting archaeological sites in Israel.
Rachel's Tomb – Placed on the northern outskirts of Bethlehem, the tomb mark of Rachels' burial is one of the oldest and most sacred sites in the Holy Land.  Rebuilt in the 19th century, today the cenotaph is venerated and visited by many religious Jews. Being so close to Bethlehem, it is reached through a narrow and secured corridor passing through the Palestinian city. The site gets especially crowded on Rachel's yahrzeit, the 11th  of Heshvan, when large Jewish groups pray at the site.