EZ Raider Caesarea Tour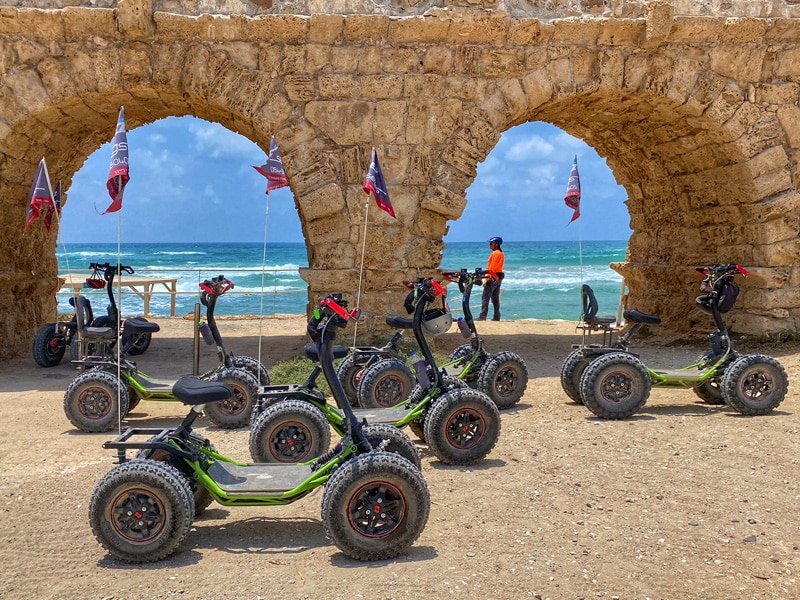 If touring Caesarea by foot is too conventional for you, how about trying the new adventure of an off-road tour around Caesarea's old port  – on an EZ Raider?!
What is an EZ Raider?
EZRaider is an Israeli invented small and unique ATV, initially designed for military uses. With its special narrow profile, low center of gravity and brilliant suspension system EZRaider created a new vehicle category.  Developed also for civilian use, this 4-wheels electric scooter gracefully traverses across any terrain, generating a great and fun new tour experience.
Touring Caesarea on an EZ Raider
The tour begins with a short introduction how to ride the EZ Raider. As you will see it easy and intuitive to control. Once you feel fully confident, put on the helmet, press and on the throttle – and let adventure begins!
Your guide will lead you through Caesarea's golf club, around modern Caesarea, and through some of its Eucalyptus planted forests. The first stop will be at Caesarea's Birds Mosaic where you will review this 1,500-year-old special mansion. Next the tour will continue to the Caesarea's famous aqueduct, followed by a scenic off-road ride along the Mediterranean coat. The last stop will be at Caesarea's ancient synagogue, where mosaics floor express the gratitude of the community for those sponsoring its construction.
The tour is about 2 hours long.
Driving the EZ Raider is allowed from age 16. Smaller kids can use the back seat.
Max speed is 13 KMH
Helmet must be worn during the ride.
Contact us to inquire more about an EZRaider tour in Caesarea: