Tour to Caesarea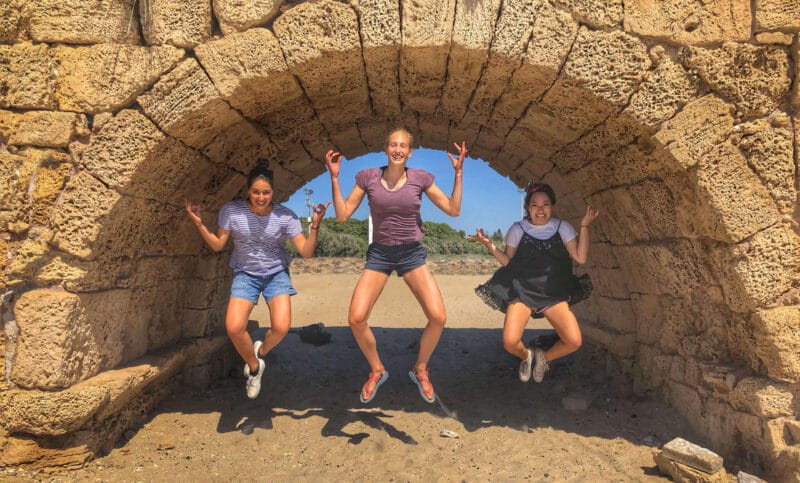 Caesarea is possibly the most fascinating archaeological site in Israel. Set along the sandy coastline of the eastern Mediterranean Sea, Caesarea "Maritima" (Latin for "Caesarea on the sea") was a major city port from Roman times. The ancient site combines a wealth of finds from Roman, Byzantine and Crusaders periods, preserved among fine dining restaurants and art galleries at its harbor. In recent years, Caesarea underwent a major development project. A new visitor center was added next to the port, the Crusaders' north gate complex was restored, as well as its ancient synagogue. With so much to see and do, no wonder Travel & Leisure Magazine labeled Caesarea as "the best tourist spot in the Middle East" for 2020.
History and Archaeology of Caesarea
Caesarea was founded in 25 BCE by Herod the Great, King of Judea. Herod had an ambitious plan to create the biggest man-made port ever made in the Roman Empire. By doing so, he hoped to gain monopoly on maritime trade in the east, especially from wheat exports in Egypt. Appointed by the Romans, Herod named the city Caesarea, and placed two big sculptures representing Rome and Augustus in its main temple. Unfortunately, within a century, the port went out of use. However, the city continued to thrive in Roman, Byzantine, and Crusaders times.
After the expulsion of the Crusaders, the city was abandoned for several centuries.  Sand covered its remains, protecting and preserving them from reuse. In the 19th century, a small Muslim Bosnian village developed over the ruins, and finally, in the 1920's the whole area was purchased by Edmond the Rothschild. Today, the Rothschild Foundation maintains the site to this day.
Tour Caesarea
Caesarea is a national park and open every day of the week, from 8:00 to 18:00. Among It's main attractions are –
Caesarea's Theatre – Caesarea's southern entry leads to a restored theatre from Roman times. Originally designed to accommodate 9,000 spectators, the theatre was partially restored and used also today for popular summer concerts.
Herod's Port – At Caesarea Herod defied nature and made max use of Roman technology. With cement blocks sunk into predestined spots, he formed a port that could accommodate 100 Roman cargo boats. At its the  time, it was the biggest man-made port in the entire Roman empire at the time.
Caesarea's Hippo-Stadium – Herod's palace faces the turning point of the city's Hippodrome – a Roman racetrack for horses. Surprisingly, the excavations indicated that hippodrome was also used as a stadium, and later as an amphitheater.
It is also possible to set an EZ Raider tour around Caesarea, scuba / snorkel in Herod's sunken port, participate in a Glassblowing workshop, a Powered Parachute flight, or explore some more hidden gems around Caesarea.
Contact us to inquire more about a private tour to Caesarea: