The Herodian Quarter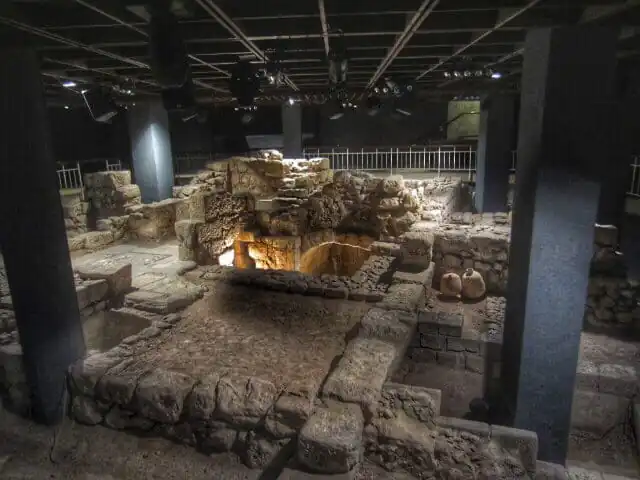 In 1948, during the Israeli-Arab War, the Jordanians conquered the Jewish quarter, and cleared all its Jewish population. The Jewish quarter was left in ruins for 19 years, until 1967. As a result of the Six Days War, Jerusalem was re-united, now under Israeli sovereignty. The Jewish quarter was rebuilt, yet before its reconstruction, a large-scale excavation project was conducted, seeking for any archaeological finds. Indeed, many different discoveries were made. Some have developed to popular tourism attractions, and the Herodian quarter is definitely one of them. The Herodian Quarter was the name given to an area exposed in the heart of Jewish quarter , right next to the Hurvah synagogue. The site proved to be very rich in finds, mostly from the First Century CE. The evidence suggests it was inhabited by Jewish priests. Sadly, this palatial residential area was found in a clear destruction. This is most likely further evidence of the Roman destruction of Jerusalem in 70 CE.
The Herodian Quarter and Jesus
The Herodian Quarter bears a wealth of finds attesting to extreme affluence of is inhabitants in antiquity. Moreover, the large number of ritual baths suggests it may have been inhabited by the Elite of the Jewish Priests of that time. Being so, it is a fair possibility that one of the mansions was the home of the high priest Caiaphas. The New Testament records him to interrogate Jesus before handing him over to Roman judgment. Especially interesting is a big hall whose walls were nicely plastered and molded to imitate marble slabs. It seems that it was designed for public assemblies. Perhaps this is the very hall where Jesus was interrogated by the High priest and the Sanhedrin?
Touring the Herodian Quarter
The Herodian Quarter is accessed from the plaza in front of the Hurvah Synagogue. It is an under modern buildings, yet air-conditioned and well lit.
A tour of the Herodian Quarter can be combined with a Day Tour of Jerusalem.
* photos by courtesy of the Jewish quarter excavations and the company for preservation and development of the Jewish quarter.
Contact us to inquire more about a private tour to Jerusalem: