Herzl Museum
If your interest in coming to Israel is a focus on its modern history, perhaps the Herzl Museum should be your first stop. Yet, the Herzl Museum is anything but a museum. Don't look for any show cases. It is a multi-sensory audio-visual presentation of Herzl and in his life journey to institutionalize the goal of forming a Jewish state – the Zionist Organizaiton.
Herzl and the Herzl Museum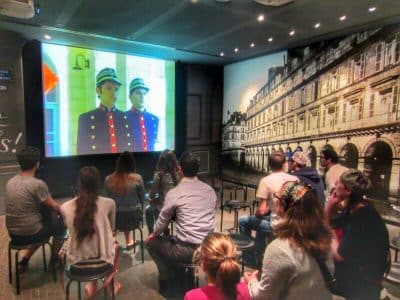 Binyamin Ze'ev Theodor Herzl was born in Budapest in 1860. He was a lawyer, journalist, playwriter, and most known as a political activist. In 1897 Herzl set the first Zionist congress, promoting his vision Jewish immigration to Palestine to form a Jewish state. Herzl died in 1904, years before the establishment of the state of Israel, yet he is still renowned as the "Visionary of the Nation".
The Museum is a 60 minutes thought provoking presentation of Herzl and his struggles to form the Zionist Movement. It is split into four exhibition spaces, showing major events in Herzl's life, from his early life in Vienna and the Dreyfus trial to his Zionist congress in Basel. The visitor becomes an active participant in Herzl's bold aspiration and the challenges he faces. The design of the museum is young and modern, inviting people of all ages.
Visiting the Herzl Museum
The Museum is located at the entrance to the Mt. Herzl . The museum  tour can be combined with a visit to Herzl's Tomb, the Leaders of the Nation Cemetery around it, and the adjacent military cemetery. It is also a short distance from the National Holocaust museum (Yad Vashem), and the picturesque village of Ein-Karem.
For a full appreciation of the site it is recommended to combine it in a guided day tour of Jerusalem.
Contact us to inquire more about a private tour of Jerusalem: