Israeli Air Force Museum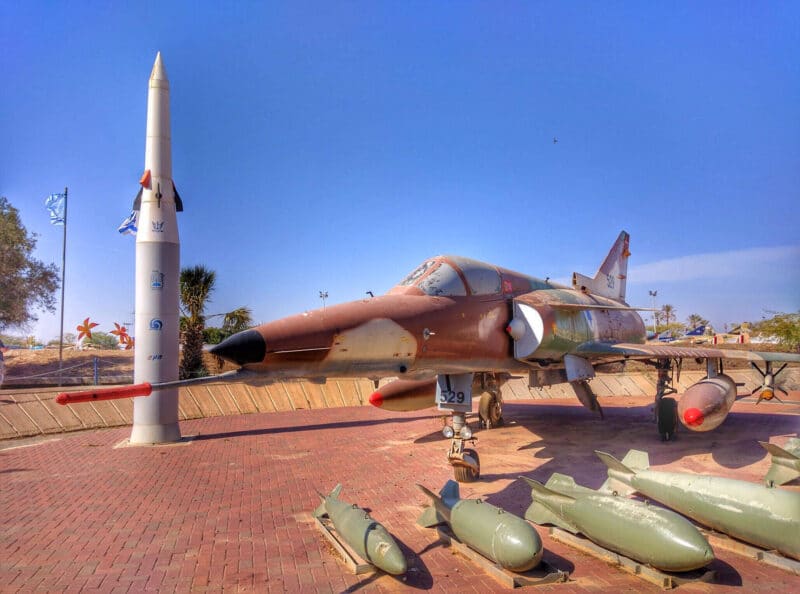 Located on the outskirts of Beer-Sheva, the Israeli Air Force Museum showcases over 150 airplanes, helicopters, and aviation related items. The rich display, which includes also some enemy's planes, delivers the exciting history and legacy of the Israeli Air Force.
About the Israeli Air Force Museum
The Israeli air Force Museum is next to Hazerim Airbase, in the northern Negev. Its vast display includes many types of planes, from WWII Spitfires, to the latest F16 supersonic fighters. It also includes helicopters, enemy planes, anti-aircraft artillery, rockets, and more. Among its highlights are:
Avia S-199 –The first purchase of the Israeli air force, amid the 1948 war. Upon arrival, in boxes, the planes were assembled, and without even test flights they were sent to raid on the Egyptian ground forces heading to Tel-Aviv. Later, one S-199 successfully intersected two Egyptian bombers above Tel-Aviv's beach. Just a month after it was founded, Israel proved to everyone – it has an Air Force!
Spitfire – A British made warplane left by the British was assembled by the IAF. Its missing engine was replaced with an engine recycled from an Egyptian Spitfire intercepted in the Negev. The engine cover was recycled from a big road sign. Later Israel purchased about 100 Spitfires. Today one spitfire ('The Black Spitfire') is still operational and is still flown on special occasions.
Mirage – French made fighter jets purchased by Israel in the 1960s. The Mirage played a major role in "Moked" operation, the aerial strike that led to the 'Six Day War' in 1967. Over its years in service in the IAF, Mirages intercepted as many as 200 enemy planes. The Mirage at the IAF Museum intercepted a world records of 13 enemy's fighter jets.
Nesher – Following France's decision to halt military supply to Israel in 1967, Israel managed to manufacture a replica of the French Mirage 5, which was called 'Nesher' (in Hebrew: Eagle). In the 1973 war, the Nesher jets intercepted 111 enemy planes.
Kfir – Another Israeli manufactures fighter aircraft, improving the 'Nesher' and fitting it to an American stronger engine. It was used in Litani operation (1978) and the first Lebanese war (1982).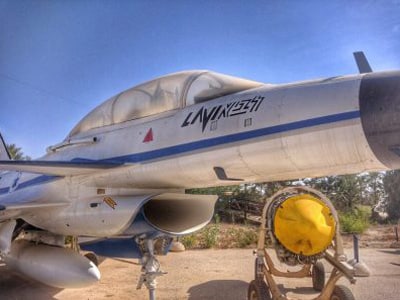 Lavie – An independent Israeli made innovative jet fighter developed in the 1980s. Unfortunately, it never became operational because of its high cost and American pressure to prefer American fighters. Only two prototypes were made, of which one is at the Museum.
F15 – An advanced USA manufactured twin-engine tactical jet fighter. In1976, upon its arrival in Israel, it intercepted the Israeli government, as it landed close to sabbath, which led to new elections.
F16 – An advanced multirole fighter aircraft, also from the USA. In service in the Israeli Air force since 1980 and its main jet fighter to this day. Was used in the successful raids on the Iraqi (1981) and Syrian (2008) nuclear plants.
The museum's display includes several enemy planes which reached Israel in various ways:
MiG-15 – A Russian made fighter jet introduced in 1947 and used by many Arab armies. During "Kadesh" operation in 1956 four Egyptian MiG-15 were intercepted by Israeli planes. One, which fell into lake Bardwil, was later pulled out and placed on display at Hazor base.
MiG-17 – An improved version of the MiG-15 that was introduced in 1950. In 1968 two Syrian MiG-17 mistakenly landed near Akko, thinking they are landing in Lebanon. They were studied and sent to the US. One was later returned and placed in the museum.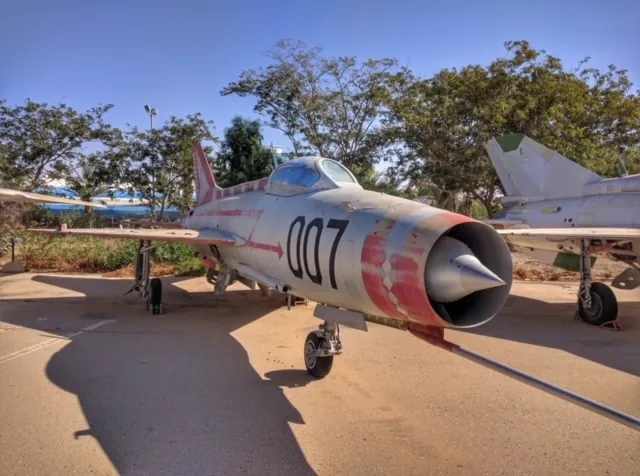 MiG-21 – The first Russian jet fighter and interceptor aircraft, which was also supersonic. It was one of the most popular Russian fighter jets and is widely used to this day. In 1966 an Iraqi pilot defected to the west by landing his MiG-21 in Israel. The plane was studied intensively by Israel and the US, and later was placed in IAF Museum, marked '007' to echo the way it was obtained.
MiG-23 – An improved version of the MiG 21, known especially for its variable-geometry wings. In 1989 a Syrian pilot defected to Israel with a MiG-23 which he landed near Megiddo. The jet was studied and later placed in the Museum.
Syrian 'Gazelle' – French manufactured chopper that was in use by the Syrian army. During the First Lebanon war (1982) its pilots landed and abandoned the aircraft (It was found with its engine still running). It was used by the IAF for several years, and then places in the IAF museum.
Aside the aircrafts display, a Boing 707 that was in use in Entebe operation is now part of the visitors' center. The original seats are now used to watch 10 minutes' movie about the IAF history. Further indoor displays are devoted to Israel's elite rescue squad (669), the Israeli space program, and more.
Touring the Israeli Air Force Museum
The Museum operates Sunday to Thursday 8:00 to 17:00, and on Friday till 13:00.  It is led by a devoted staff of soldiers and takes over an hour. Being next to Hatzerim airbase, war planes and training planes flying over the museum blend well with museum's theme. Furthermore, on Jewish holidays (Sukkot and Passover) the Museum flies some of its own planes above the cheering crowds.
A guided tour of the Israeli Air Force Museum can be combined with a day tour to Beer-Sheva and the South.
Contact us to inquire more about a private tour to the Air Force Museum: