Mount Nebo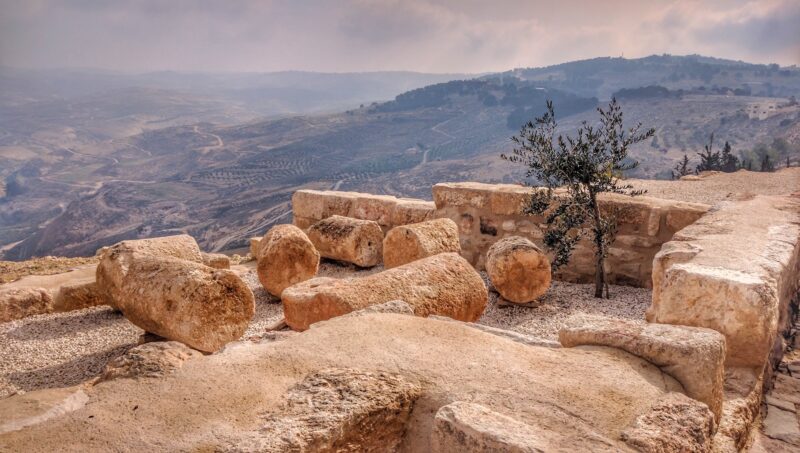 Perched on a summit 20 miles southwest of Amman, by Christian tradition Mount Nebo marks the site where Moses saw the Promised Land yet was forbidden to enter. Developed into a church complex in the Byzantine period, today Mount Nebo is a popular pilgrimage and tour attraction.
History and Archaeology of Mount Nebo
According to the bible at Mount Nebo Moses finally saw the Holy Land after years of leading the Israelites from Egyptian slavery. Yet forbidden to enter it, he remained on Mount Nebo until his death, and was then buried nearby (Deut. 34:1-6). According to the Book of Maccabees, Mount Nebo is also where Jeremiah hid the Ark of the Covenant (2:4-7). This site was identified and sanctified in the Byzantine period. In the 4th century a church was built on the top of the site, which was developed in the 6th century into a monastery. However, by the 10th century the site was abandoned. The site was purchased by the Franciscans in 1932 and excavated in the subsequent years by several Franciscan expeditions. The excavations uncovered the foundations of the monastic complex with a few mosaic floors. Surprisingly, these mosaic floors do not bear any themes relating to any biblical story. Instead, they depict scenes of hunting exotic African animals, and several dedicatory inscriptions, in Greek, thanking donors who supported the monastery.
Touring Mount Nebo
Known in Arabic by the name 'Siyagha', Mount Nebo is open every day of the week and has an admission fee. The Byzantine church that commemorated Moses was nicely renovated in 2016, including walkways around the mosaics. In the monastery's courtyard is a 25 feet-high serpentine-cross sculpture. Created by Italian artist Giovanni Fantoni, this artwork combines the healing copper serpent made by Moses with Jesus' cross. The courtyard also provides some breath-taking panoramas of the Jordan valley, the Dead Sea, and the Judea and Samaria mountains.
A tour of Mount Nebo can be combined with a multi-day tour of Jordan.