Mount of Olives Viewpoint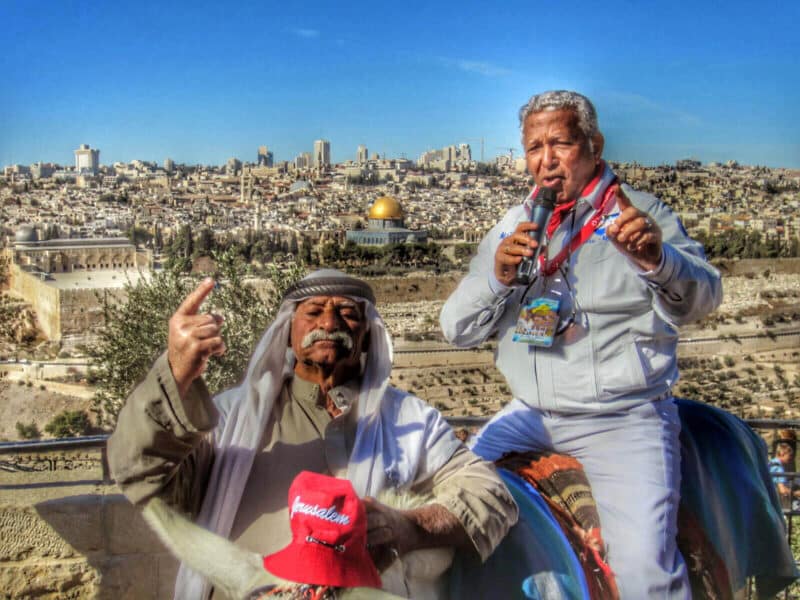 The Mount of Olives viewpoint is a famous landmark in Jerusalem and a must stop for every tourist visiting the city. Located at the southern end of Mount of Olives, the viewpoint provides an iconic panorama of the Old City of Jerusalem and its vicinity. Seems that no tour of Jerusalem is complete without a selfie or a group photo at the site. It is also an optional site for riding a camel or a donkey. Within walking distance from the viewpoint are quite a few points of interest. A big Jewish cemetery is spread on all sides of the mountain. Near the viewpoint is an ancient burial cave. By local Jewish tradition, it is the tomb of a few prophets. South of the viewpoint are the Chapel of the Ascension the church of Pater Noster. Both churches were originally built in the Byzantine period, and are some of the oldest Christian shrines in Jerusalem.
On the Western Slope if the church of Dominus Flevit. By Catholic tradition it is at the site where "the Lord Wept" upon his entry to Jerusalem (Luke 19:41). At the foot of mount of Olives are the Garden of Gethsemane and the Grotto of Gethsemane, where Jesus and his disciples spent the night after the 'Last Supper". It is here that Jesus prayed, and later captured.
Contact us to inquire more about a private tour of Jerusalem: