Rosh Hanikra
An amazing geological formation, carved into a cliff that holds the Israel-Lebanon border,  facing the tranquil blue waters of the Mediterranean Sea. No wonder Rosh Hanikra (from Hebrew: 'Head of the Grotto') is one of the most popular tour destinations in northern Israel. The site is mostly known for its wave-sculptured grottoes, with the sea's water lashing against the rock forming grueling sounds. A short yet exciting cable-car ride descends to the caverns, where man-made trails enable exploring the site at your own pace. In the 1940s a section of the Cairo-Istanbul railroad was carved through the grottoes, connecting Israel to Europe by train, until 1948. A audio-visual presentation reviews the history of the site, and there are also bike rental, with which it is also possible to rent bike and drive through the railroad tunnel, and Betzet Beach.
Touring Rosh Hanikra Grottoes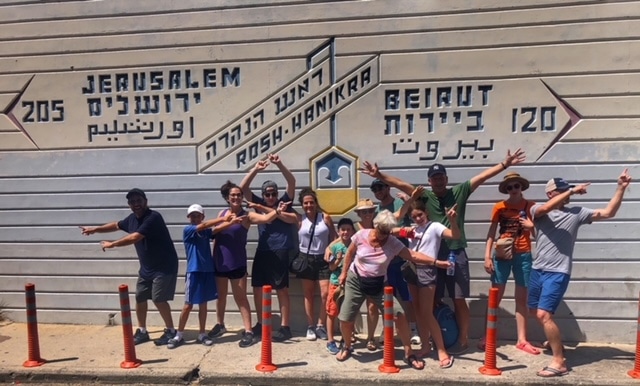 The site is open every day of the week, year-round, and charges and admission fee. At the Israel-Lebanon border it is possible to take a photo next to the sign to Beirut, but not to continue on, for now. As a compensation the cafeteria behind the sign offers food with fantastic views of the of the cliffs and the sea.
A tour to Rosh Hanikra Grottoes can be combined with a day tour in the north.
Contact us to inquire more about a private tour to Rosh Hanikra Grottoes: