Wadi Rum
Stretched over nearly 300 square miles, Wadi Rum ('elevated dry riverbed') is one of the most beautiful desert in the world. Rugged-shaped sandstone mountains rise high among vast sandy plains, forming dramatic lunar-like landscapes. Some of its captivating summits, almost 5000 feet high, will be capped with snow in the winter. The wadi is also home of the Zalabia Bedouin tribe, of which some are still preserving their nomadic lifestyle. In the past the Hejazi railway crossed Wadi Rum, of which an Ottoman-era steam locomotive can still be seen. Wadi Rum offers a fantastic wilderness tour experience, and its beauty is astounding.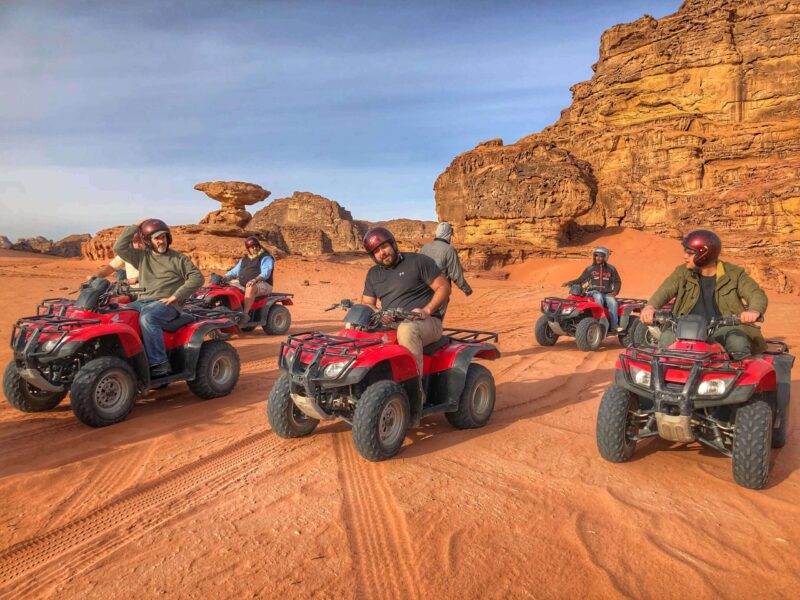 Popular activities in Wadi Rum include an off-road or ATV tours across the sand dunes and dry salt lakes; a Camel Ride or a hike to Lawrence's spring; a hike through Khazali canyon, known for its petroglyphs and inscriptions; or an enchanting Hot Air Balloon Flight at sunrise. The tour can also combine Bedouin 'Zarb' Lunch experience, spending the night in a Bedouin style campsite or in 'Martian tents'.
When to Tour Wadi Rum
It is best to time the visit to Wadi Rum to the spring or fall seasons. In the summer months are very hot, and in the winter the nights are very cold.
A tour of Wadi Rum can be combined with a tour to Petra, or a multi-day tour of Jordan.