Yad Kennedy / Kennedy Memorial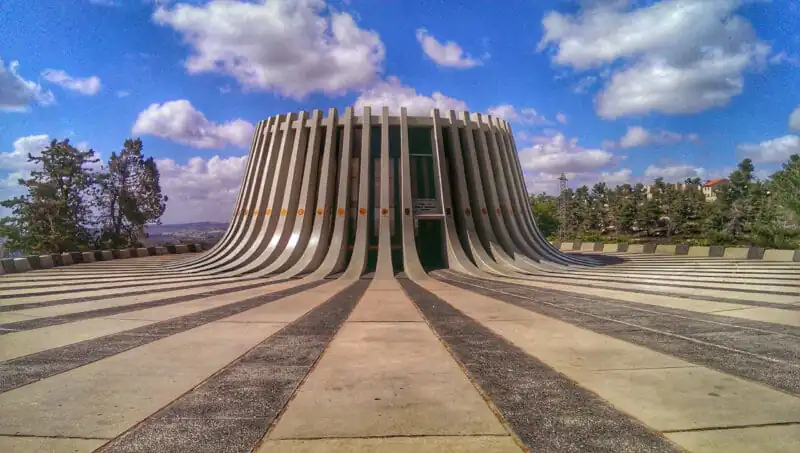 The Kennedy Memorial, or Yad Kennedy as it call in Hebrew, is a striking monument set majestically in forest in the outskirts of Jerusalem. The memorial was built in 1966 as a poignant reminder to the assassination of the J.F. Kennedy on Novermber 22nd, 1963. The 60-foot-high memorial is shaped like a stump of a felled tree, symbolizing a life cut short. The inner sanctum bears an eternal flame next to a bronze relief of Kennedy. On the exterior 51 white marks are spread like giant roots yet join into a row of slender columns circling the monument. Each column is embedded with an emblem of one of the 50 states of the United States, plus the District of Columbia.
Touring Yad Kennedy
The Kennedy Memorial nestles in the Jerusalem mountains, on the side of the road to Hadassah hospital and medical center in Ein-Karem. The inner sanctum should be open Sunday to Thursday from 8:00 to 15:00, but the memorial is worth a visit any time. Stroll around the monument to appreciate its special architecture, as well as the stunning views of Jerusalem's forest, the Judean mountains, and the coastal plain. The visit can be combined with a review of Chagall windows in the nearby Hadassah medical center, or a leisure walk through the picturesque village of Ein-Karem.
A tour of Yad Kennedy can be combined with a guided day tour of Jerusalem
Contact us to inquire more about a private tour to Kennedy Memorial: