Yad Mordechai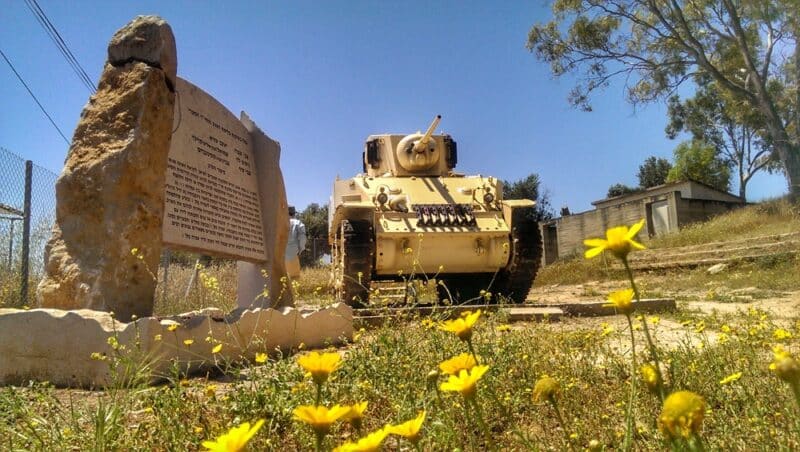 Yad Mordechai is a Kibbutz (communal farm) in southern Israel, 7 miles south of Ashkelon and 2 miles from Gaza Strip. It is mostly known for impeding the Egyptian army from advancing towards Tel-Aviv in 1948.
History of Yad Mordechai
Yad Mordechai was established in 1943, south of Ashkelon. It was named in memory of Mordechai Anielewicz, the commander of the Warsaw Ghetto uprising, which broke earlier that year. Five years later, in 1948 the Kibbutz found itself under a massive attack by the Egyptian army. The kibbutz held out for six days of continuous fighting, and by the end of the war it was liberated and rebuilt.
Touring Yad Mordechai
The Kibbutz still operates as a communal farm, yet being only 2 miles from the Gaza Strip, safe rooms are a reminder of the rocket threats from Gaza. In the southern edge of the kibbutz, a unique exhibit presents the Egyptian assault on the kibbutz in 1948. Silhouettes of Egyptian soldiers dot the fields, viewed from the original kibbutz bunkers. An Egyptian tank is also on display.
On a hilltop of the Kibbutz, a larger-then-life bronze sculpture of Mordechai Anielewicz clutching a grenade is proudly on display. Placed in front of the kibbutz water tower destroyed in the 1948 battle, these monuments merge the struggle in the Holocaust with the struggle to create the state of Israel . The kibbutz is also known for its honey, jams, and olive oil. The bee activity visitor center offers visitors the oppurtunity to open a hive and taste honey directly from the honeycomb. A natural sweet way to end a great tour!
A tour of Yad Mordechai can be combined with a day tour to the surroundings of Gaza Strip.
Contact us to inquire more about a private tour to Yad Mordechai: