Danny "the Digger" Herman – Private Tour Guide
Chief guide Danny Herman earned his nickname ("the Digger") due of his keen passion in Biblical Archaeology. With an MA in the field, as well as an MBA, Danny lectures at the Hebrew University, tour guide courses, and is the founder and owner of a tour agency ("Danny the Digger"). With his vast knowledge in Biblical Archaeology, Danny provides a unique and insightful tour, ensuring a very special, enriching and memorable travel experience.
Danny also manages a popular YouTube vlog about Biblical Archaeology, and much experience in TV productions relating to the subject, and is also the co-owner of the podcast about Jesus and Christian Archaeology.
Danny is married and lives in Modi'in with his wife and is the proud father of three children.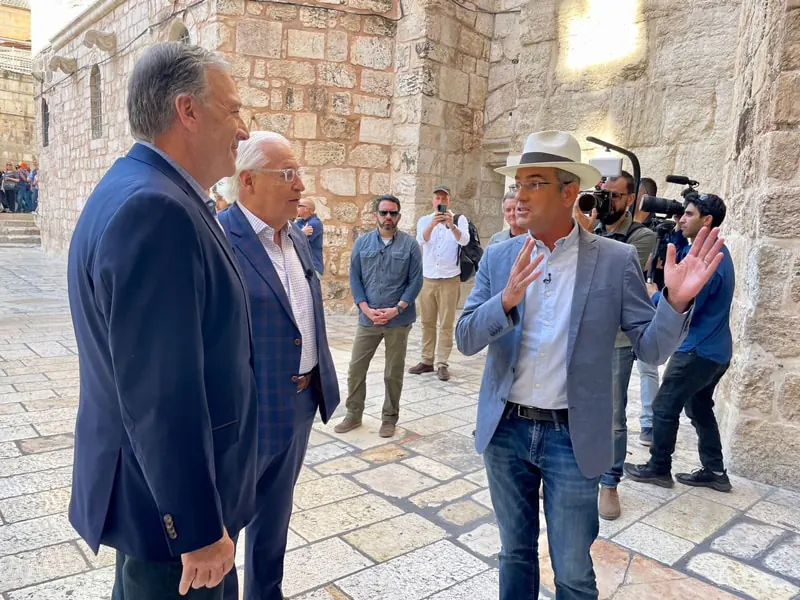 Danny knows the sites of Israel from so many different perspectives- not the least of which is the archeological expertise he brings to the table. Danny is one of a kind - I'd recommend him for any length of tour for any age group on any day of the week! My experience was eye opening and life-shifting. Loved every moment. Best tour guide experience I've ever had!
Daniel provided the single best guided tour experience our family has ever had! Daniel's knowledge of the Holy Land is the very best - and he magically weaved lessons on history, archeology, and religion into every site visit - in a way that fascinated my entire family (inc 2 teenagers, 2 young adults). We all learned and had experiences we will never forget. The entire experience was top notch and well planned - Danny knows everyone and how to get things done. Don't hesitate. Book Danny the Digger now!
My husband and I just got back from an 8 day tour of Israel with Danny. It was fantastic!! Danny is incredibly knowledgeable and related so many interesting details and facts about his country. Every day was a great day. Danny is simply the best!!
Danny is incredibly knowledgeable on the biblical, historical and political information surrounding all the sites… As a Christian, Danny has offered me so much insight into the life of Jesus as well.
We are a Christian Family of five from the United States. Danny gave us an outstanding tour of Jerusalem and Herodion. His Archaeology background and knowledge of the Old and the New Testament is impressive and his explanations brought the holy sites to life... Our three teenage children loved his tours!
…It was truly one of the best tours I've experienced (and I've traveled all over the world). Your archeological and academic background and knowledge, cultural perspective and ability to weave history, personalities, fact and symbolism together into wonderful stories made it all come alive in a magical way.
Thank you so much for the tour yesterday. Was simply superb!
I'd been looking forward to this trip for years; it wouldn't have been nearly the highlight it was w/o you, your knowledge, insight and friendship. I can't thank you enough for that..
I learnt more about the Bible with Danny in a day than I have ever had attending Sunday school or church. The tour was just excellent!
Seeing places like Tel Hazor and Tel Dan with an expert on archaeology explaining how we know what we know about these times long ago was a special treat.
Let me say to you and you may use this as a sincere testimonial: You Danny the Digger are an outstanding guide, educator, archeologist and political pundit providing exciting and most intelligent information to the visitor on events of the past, their impact on the Jewish world and our concerns with the future. I have been to Israel 100+ times but notwithstanding, one always learns particularly from people like you.
I recommend his services wholeheartedly for the synagogue group I will be leading this coming October/November. While his certification is currently specific to archaeology, my experience is that he will be fully able to handle the range of explanations that our group will need, in order to have a meaningful tour.
We really enjoyed touring with you Danny. Your knowledge of all aspects was truly impressive and made the tours extremely interesting…
Danny's obvious love for Israel shines through his every word. Beyond the historical / archaeological / holy sites, Danny was more than willing to show us areas off the beaten path. He greatly enriched our Israeli experience and was worth every shekel!
Thank you again for the fantastic day! You were excellent and we enjoyed ourselves very much!
The day with you actually inspired me so much and it was definitely one of the best trips I had ever!
The best guide I ever had!
..he is an excellent English speaking tour guide.. He is highly recommended… but call soon as he may get booked up!
Thank you so much for a fantastic and interesting 2 days seeing some of the most incredible places in Israel and in history. We really appreciated your knowledge and insight.
Our private guided tour to Jerusalem in the night was unforgettable. Danny was awesome!
Our most heartfelt thanks for making our trip to Israel such a fantastic experience… we have been there before, however, under your guidance we saw it in a new and more comprehensive way.
I found his references to the history of the land and its current politics very astute and interesting. He would be an ideal candidate for who may want a really in-depth and unforgettable experience.
Thank you very much for your guided tour and excellent archeological observations… Your expertise and laid-back manner really made for a wonderful evening.
I am still under huge impression from your tour! Thank you so much for it!!! You're the best tour guide ever!!!!
Hi Raphael. We are very happy to see that you had such a great experience… Danny: Thank you for providing our client such a great service!
…Jerusalem Tour… was an absolute thorough enlightening, and very pleasant Experience. Looking forward to our next excursion…
Everyone — even the tired teenager Orly — agreed that our historical archaeological tour with you today was a major highlight of our trip. You are an extraordinarily gifted teacher.
We had the extreme pleasure of being guided.. by you… Great memories of a great trip. Thanks for your good work.
..You are an excellent guide, probably way over qualified and for our purpose, just terrific…
We have really enjoyed our time with you.. I learned so much from your explanations… I really think I will remember this trip forever. Todah Rabbah!
I would like to thank you once again for the really good time we had in Israel, thanks to you. The whole experience… had an amazing impact on me, it made me see things in a different light, thank you for that.
We had a glorious, eye-opening time, from Masada to the kibbutz… Your knowledgeable, incisive remarks and explanations made our time with you an experience to remember.
I wanted to thank you for making our first trip to Israel such a spectacular one… You were the perfect guide... You really made the Bible come to life…
I wanted to thank you again for the perfect tour of Jerusalem! The conference guests were extremely impressed with your knowledge and found it to be a very interesting experience. It was a great success!
Danny, I truly enjoyed the tour of Jerusalem. You did an excellent job of getting through 4000 years of history in two hours – with excellent detail... Thanks again.
..my trip to the Holy Land will last my entire life…I really appreciated how you wove the history from the New Testament into our tours…You taught me so much. Please don't think me presumptuous- I am very sincere. It was a privilege to spend time with you.
Thank you again for a wonderful, enlightening day yesterday. Leena and I truly appreciated you guidance through the Old City and will cherish the experience forever. I wish you all the best.
If you decide to go to Israel and get to know its history and culture, I strongly recommend to take Danny as a personal guide. You will learn 10 times more than with group tours, and all of that in a very relax atmosphere. And he is also just a fun guy to hang out with.
Danny is the best, believe me!
I now understand what they mean when they say the right guide can make the country come alive. I certainly experienced that. I have already told some friends about how terrific you were.
Danny, what a wonderful two days we had with you in the Galilee!! My 13-year-old grandson now thinks he wants to be an archaeologist and my son-in-law now says he's a "raging Zionist"
..Danny the Digger on the other hand was simply outstanding. The tour of Jerusalem was perfect – his knowledge was the best of any guide I have had… it was probably the best tour I've had since I have been coming to Israel.
I wanted to say thanks for the great experience and also tell you how much I enjoyed our discussions... You go down in my books as one of the great people I have had the pleasure to meet while in the country...
Danny has taught a number of courses for my Dept. in recent years.. In addition, he guides our visitors from partnering institutions, as well as academic tours… Danny succeeds in delivering an outstanding, informative, multi-faceted experience… He is both charismatic and humorous, and has excellent English… I recommend him highly..
My parents cannot stop talking about how you made this trip so amazing!! .. We just loved how you made everything so interesting and educational. Thank you again for everything!!... Israel is lucky to have you.
From private tours to meetings with key religious figures in the old city, and helicopter rides – everything was unbelievable! I highly recommend his services, especially if you're looking for something incredibly special and/or need to impress VIPs.
He is definitely NOT JUST ANY TOUR GUIDE. Danny plans, suggests alternatives, continually adjusting destinations according to his clients' energies and interests… coming up with even more fascinating alternatives… He is ideal for VIP executive tours.
Danny… the trip was fantastic. You were unbelievable. Your knowledge was only surpassed by your desire to tell us everything you know about a subject… I don't think we could have had a better overall trip from anyone else no matter what.
You are not only the best (by far) tour guide we've ever had, but you are also a fine and admirable person. It's wonderful how your passion for archaeology and for Israel shines from you. Your knowledge regarding all aspects of the tour is exemplary.
Imah, Johanita and myself would like to express our heartfelt gratitude for the outstanding hospitality and guidance that you gave us… Many thanks for a wonderfully memorable stay in Israel..
Your guiding was very professional and informational. Your way of explaining with the relevant jokes made the tour extremely interesting. I am sure that our non-Jewish guests were very impressed with the tour and their encounter with bustling Jerusalem and the holy sites for various religions.
We have to say without reservation that it was the most informative, interesting, and fulfilling tour we have ever been on. Your leadership, experience, contacts, and expertise made the trip exceptionally worthwhile for us. It will long remain our "trip of a lifetime."
Danny, I cannot thank you enough for all the kindness you showed Anna and myself. You really outdid yourself and accommodated us with tremendous grace and poise.
We were EXTREAMLY fortunate to get Danny Herman as our PERSONAL guide. Danny Herman's expertise contributed IMMENSELY to making this a SPECIAL, TRIP-OF-A LIFETIME.
This man is not a tour guide – this man is an archaeologist who happens to give tours. Unbelievably deep and wide knowledge of the history of religion and Israel. Great service, tailors a tour to fit your available time. Very friendly and engaging, just a delight to be around.
My experience with Danny exceeded all my expectations and provided me with a complex, informed perspective on what at the very least is a complex place… I will definitely engage Danny again–he's terrific!
Thank you for such an amazing day. We had a great time and no doubt you are the best guide for Jerusalem!
Not only are you a great maggid of the history of the Jewish people and their homeland but you are an awesome photographer. I know that the trip is not over, but it has already exceeded our expectations.
I want to thank you for a truly wonderful and educational tour. The kids thought you were amazing!
… He exceeded our expectations in every way. We learned so much history including the archeological record, gained enormous perspective… His company and demeanor is welcoming and warm. He will make you feel like a lifelong friend.
…from all the tour guides I meet in Israel, you were absolutely the best. Honestly you have a gift…
We were very pleased to meet you and the tours we had were one of the best ever… I experienced and learned more than I could have hoped. We look forward to seeing you next time we are in Israel…
Thank you for the outstanding tour of Jerusalem. It is hard to imagine how we saw so much in one day, but the orientation and information, as well as your delivery, was spectacular..
.. thank you for such a wonderful experience. You truly did an outstanding job!
With you as our guide, the history of our biblical origins indeed came to life. We learned so much from your knowledge, much too much to remember.
I want to apologize for not writing sooner as you certainly deserve an excellent review of the tour you provided us… Your patience, your knowledge and personality created memories for us that are so precious… thank you from the bottom of our hearts!
Thanks again for the great day out with my family… it was just one more great day on the road with new friends. You are a blessed man, congratulations.
I just wanted to thank you again for making our trip so memorable. Thinking back over our eleven days, I realize again how much we learned about Israel's history, politics and culture because of you and just can't thank you enough. Plus, you're a super fun guy, which is a true bonus. 🙂
You made our trip so much better by bringing us to sites and persons not on a traditional radar.. wow! What a thrill for those encounters and for your solid guiding throughout the two days..
..it was a fabulous day. Thanks a lot!! We were all impressed by your knowledge, professionalism, and skill.
It was a pleasure to have met you, while the tour and the insights gleaned from it made for a very pleasurable day, one we will surely remember for the rest of our lives.
Just a note to thank you Danny for the MOST enjoyable time spent with you… we will never forget a memorable few days. Our thanks also to Freddie.
… We thoroughly enjoyed our time with you and listening to your extensive knowledge of history and present day in Israel. We will be forever changed by our trip.
Thank you for your guide today around Jerusalem. It was very enlightening and made me ponder upon religion and ways of life…
Danny is terrific. He is equally qualified introducing the first timers to the most popular sites in Israel and, on the other hand, instructing the experts regarding the obscure and little known sites few are aware of.
He has a vast knowledge of Israeli archaeology and history, as well as a firm grasp of the things that are important to both Christians and Jews. In addition, Danny presents himself on camera not only as a knowledgable expert, but an engaging and likeable character with a personality all his own.
Danny was fabulous! His English is flawless, and his historical and archaeological knowledge is unparalleled. We used several guides during our time in Israel. Danny was by far the best.
Danny's scientific approach to explaining the sites, religious and secular, is like nothing I've ever experienced before. With his background in archaeology, he's a fantastic wealth of knowledge.
Danny is an outstanding guide! It is an experience I will never forget.
Thank you for an amazing couple of days, we could not have seen half of what we wanted without you. Everything was perfect!
Danny thank you again, that was a magical day. Everyone had a terrifc visit, I will highly recommend to anyone coming to use you!
Thanks very much for a really special day. I loved being able to go to the special places for Christians.. an everlasting experience for me… And thanks… for your professionalism and deep knowledge and dedication...
Thank you so much for your time today, we loved every second! Also thanks too for extra effort to find my uncle 🙂
Hi Danny, I want to thank you again for such an amazing day! The group absolutely loved your guidance. Even our most senior participant was very impressed by your immense knowledge and attention to detail. So thank you again!!
Hi Danny.. All of us really enjoyed the tour and appreciate what a great guide you were. Prior to the tour we were supporters of Israel. Since the tour our support has increased, and we are better at explaining the challenges Israel faces… thank you for providing us a great tour
He makes biblical history fascinating and the tour is very comfortable despite occasional heat and crowds… I would book Danny again if I'm lucky enough to return.
We really enjoyed your knowledge and your company… to you and your family הרבה ימים מאושרים לבוא.
I simply can't say enough of how truly SPECIAL our time was touring with you!! Having a tour guide like you that is not only extremely knowledgeable but also has such a passion for Israel was just wonderful… We just loved our 3 days with you!!
Thank you for a remarkable day. You are a brilliant man
My husband, Mordecai, and I recall with great pleasure the tour of the Stations of the Cross, which you led for a group of medical scientists…Your tour and the trip were both very memorable.
..You were great. You have the knowledge of both archaeology and tourism that made this a very special trip..You were a really good tour guide and I really enjoyed the trip.
I have to say Danny , that whirlwind trip to Israel was one of the best holidays of my life. Much of that is due to you..
..I wanted to thank You once again for being such a wonderful guide and making our trip so meaningful.. I have already told some friends about how terrific you were..
Danny — you gave our IDC group one of the best presentations yet!! thank you very much…
..His extensive qualifications and experience as an archaeologist give him a depth of knowledge beyond any tour guide. Added to that, his guides are provided with warmth and humor..