About Us
Guided private tours in Israel
We are a boutique tour guide agency specializing in private guided tours in Israel. Our tours cover a diverse range of destinations, attractions and activities. With our select team of expert tour guides, we will provide you with an exceptional tour experience and memories of a lifetime.
We have an extensive list of single and multi-day tours. However, all our tours are fully flexible and customizable to make sure we include your interests and expectations. Whether your passion is the Bible or archaeology, modern-day geopolitics, nature, culinary experiences or all of the above, we can tailor the perfect plan for you!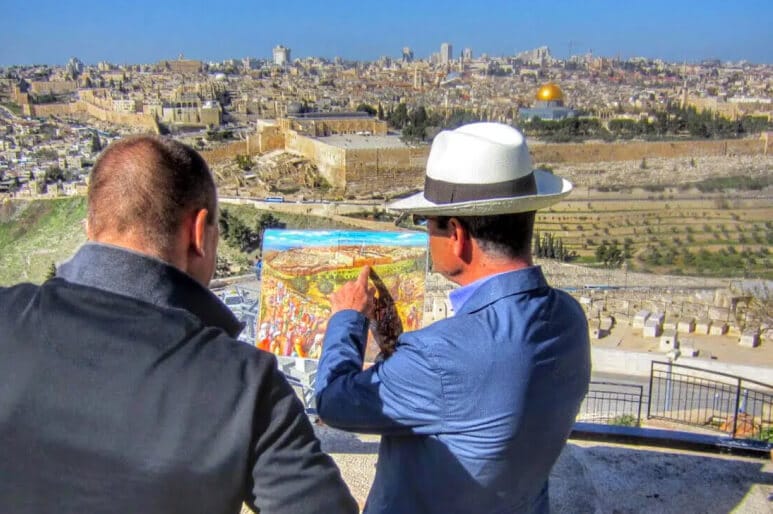 Taste a glimpse of Israel
Single Day Tours
Single-day tours are the most effective and comfortable way to cover certain destinations. They are also a perfect solution if you are limited on time. Our list of carefully crafted schedules for day tours will provide the maximal tour experience at any site and can be customized in any way you wish. The tours depart from your hotel in Tel-Aviv and Jerusalem. At the end, we can even drop you off at the airport for no additional charge. Led by any one of our expert guides, we promise to provide you with an unforgettable experience.
Contat us for more information about our day tours:
We booked a helicopter tour with Danny in March. Everything perfectly organized from A to Z!! It doesn't get any better! Thanks a lot for this! 100% recommended!
Danny knows the sites of Israel from so many different perspectives- not the least of which is the archeological expertise he brings to the table. Danny is one of a kind - I'd recommend him for any length of tour for any age group on any day of the week! My experience was eye opening and life-shifting. Loved every moment. Best tour guide experience I've ever had!
Daniel provided the single best guided tour experience our family has ever had! Daniel's knowledge of the Holy Land is the very best - and he magically weaved lessons on history, archeology, and religion into every site visit - in a way that fascinated my entire family (inc 2 teenagers, 2 young adults). We all learned and had experiences we will never forget. The entire experience was top notch and well planned - Danny knows everyone and how to get things done. Don't hesitate. Book Danny the Digger now!
From private tours to meetings with key religious figures in the old city, and helicopter rides – everything was unbelievable! I highly recommend his services, especially if you're looking for something incredibly special and/or need to impress VIPs.
He is definitely NOT JUST ANY TOUR GUIDE. Danny plans, suggests alternatives, continually adjusting destinations according to his clients' energies and interests… coming up with even more fascinating alternatives… He is ideal for VIP executive tours.
Explore Israel in-Depth
Multi-day Guided Tours
Israel might seem small on the map, but it is dotted with so many diverse points of interests. From antiquity sites to high-tech visitor centers, and from holy destinations to helicopter tours. A proper, in-depth tour of Israel will take more than one day. Perhaps a lifetime. So, whether it's to celebrate a family event, fulfill a pilgrimage dream, or enjoy a vacation of a lifetime, we can offer you a fully customizable tour experience. Let us know of your dates, your interests and expectations, and together we will build the ideal tour plan for you, counting in all Logistics, from the moment you land to your departure back home.
Head off on an Adventure!
Special and Themed Tours
One of our biggest prides is our unique capability to arrange tours to special destinations, and guide tours that focus on specific themes. The special tours range from off-road excursions in the wilderness to a trip along the border with Gaza, or a 2 days intense tour Ramon Crater, or to Petra and Wadi Rum. The themed tours are especially exciting. Most of them relate to a fascinating archaeological mystery or riddle. They are often connected to a Biblical topic as well.
Tour Israel with the best!
Our company specializes in private guided tours in Israel. From Eilat to the Golan Heights and from Jerusalem to the Dead Sea, with our team of expert guide you will reach the most interesting tour sites of the country, try the best local food, and participate in the most exciting activities. And having great contracts at certain 5-star hotels we can also offer you top level accommodation, yet at very competitive prices.
All tour plans are carefully planned, yet can be fully customized to match your very specific interests and time frame. Enjoy the history, archaeology, culture, wine and food of Israel as you explore it with one of our top guides. Tour like a local, yet in style, and with a luxurious vehicle. Our team is made of carefully selected top-notch tour guides. They are all very experience, knowledgeable and with great social skills.
So what are you waiting for? Contact us and let's start building your own amazing getaway to Israel!