Edan Geva – Private Tour Guide
Edan's journey to becoming an exceptional tour guide is a unique and diverse one. His story begins when his parents immigrated to Israel when he was just three years old, settling in a Kibbutz near the picturesque Sea of Galilee. During his high school years, Edan honed his work ethic by laboring on a dairy farm. Following his military service in a Tank unit, Edan pursued a path of intellectual curiosity, studying history, theology, and archaeology. His academic pursuits were further enriched by his active participation in the excavations in Sussita archaeological site. When you tour with Edan, you gain from a lifetime of diverse experiences. His childhood on a Kibbutz and military service instilled in him a deep connection to the land. Combined with his academic studies, his tours offer you a holistic understanding of the places you explore.
Touring with Edan Geva promises a rich tapestry of experiences. His deep connection to the land and warm demeanor make every tour engaging, educational, and unforgettable.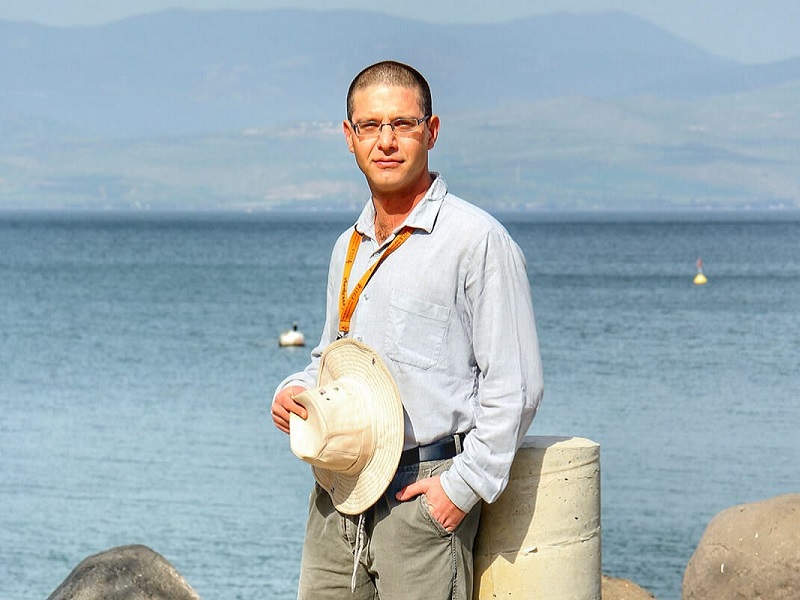 Danny — we just wanted to let you know how great Edan was as our guide. We couldn't have asked for a better one for our family!
Justin B., USA
היי דני. ראשית אני חייבת לפרגן ולהגיד שעידן היה מדהים! עפו עליו ממש ונהנו מאוד.. ממש תודה
Danny, We are back on our APEX cruise ship and enjoying a day at sea. Our three days in Israel were filled with exciting, emotional. and existential experiences. Edan was professional, extremely knowledgeable, personable, and caring… He navigated us safely to each site and continued to monitor our walking path for the best interaction and within hearing distance as he shared the centuries of history belonging to each biblical site. 
Edan addressed our personal comfort and stopped each day for us to enjoy a typical lunch. His van was filled with water and he even brought hats and step stools to accommodate the climb into the van. We so enjoyed and will cherish our Holy Land memories and friendship with Edan. 
Thank you for your guidance and for allowing Edan to share his love for his country.  Shalom
C., J., C. and L.
Sent from my iPhone
We made last minute plans for a trip to Israel hoping to introduce our two boys (17 years old and 19 years old) to the country. We wanted them to learn about the history of Israel and gain an understanding of its people. We contacted Danny based on the Tripadvisor recommendations. He quickly helped us put together an itinerary and recommended his colleague Edan Geva to be our guide..
Edan turned out to be a perfect match for us! He grew up on a kibbutz in Ein Gev on the western shore of Sea of Galilee. He also previously worked as a park ranger and knew the Golan Heights area very intimately. Edan connected with both of our sons very easily and they were fully engaged throughout the trip. Edan is true patriot and his stories (including many personal stories) were insightful and heart warming.. In some cases (such as with Nimrod lookout) he was able to arrange personal meetings with people (witnesses to history) who spent time with us telling their stories. On one of the tours in the Caesarea stadium where ancient races were held, Edan challenged our boys to a race and we watched them running like in a millennia ago. Edan made the tours lively and meaningful and geared to our tastes and tempo. We really could not have asked for a better guide!
Both Danny and Edan are true professionals and we highly recommend them!
Hey Danny!       Apologies for my delay in providing the feedback. I was doing a lot of traveling then got a little under the weather. But

Edan was amazing!

We really, really enjoyed touring with him. He genuinely wanted us to get the most of the experience, and he delivered so much to us in the short amount of time we had. He even offered to meet us after our lunch if we were able to see more (unfortunately we had to hit the road, but I wish we had more time). It was wonderful to learn about Jerusalem from an archeological stand-point..   
Edan was so kind, thoughtful, and informative, we really enjoyed every moment and we can't thank him enough for fitting in so much in such a short amount of time. I know, I'll definitely be calling him when I'm back in Jerusalem.  5 stars from us!
Thank you!
Sarah
We just came back from  our tour of Israel , guided by Edan Geva on a referral from a friend. We were a family of 12, celebrating our youngest son's Bar Mitzvah. This was  a life changing experience, one that my entire family will be talking about forever. This wouldn't be possible without the meticulous and experienced planning by Edan. His vast knowledge of history combined with his extensive studies in archaeology make him an ideal educator and mentor. His enthusiasm and love for Israel is infectious. Edan chose the site for my son's Bar Mitzvah at Ein Kashatot, a recently excavated 1500 year old temple. ( "Everyone has it at The Western Wall " ) It was the most beautiful celebration we've ever  seen. We were the first family from NY to have our Bar Mitzvah there. It was truly spectacular. Every part of our trip was carefully planned in a way that we can experience true life in Israel, The good and the bad, light and dark. Edan would make sure our carefree family would always be on time and never miss an activity. He was always prepared in case of bad weather with a back up plan. We got to see places and experience true life in Israel thanks to Edan's first hand accounts and numerous contacts, things many people never hear about. Israel is a very unique and fascinating place, a true miracle. The tour guide makes a world of difference in the kind of experience and adventure you will have. I will be recommending Edan to every family member and friend so that they can come back with the same kind of amazement and love for Israel.