The Ethiopian Jewelry School at YVEL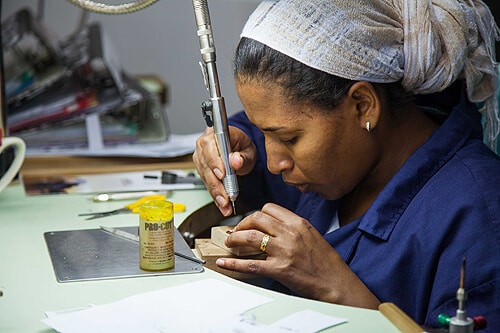 YVEL is a luxury jewelry company based in the suburbs of Jerusalem. The company is privately owned by Isaac and Orna Levy and is best known for its baroque pearl jewelry. The company sells in more than 650 retail stores around the world and is known to be worn by various celebrities. The company's headquarters and state-of-the-art visitor center (YVEL Design Center) are in a former winery complex in Motza, a suburb of Jerusalem.
Most of YVEL's employees are immigrants, coming from 22 different countries. Furthermore, in 2010 YVEL owners opened MEGEMRIA ("Genesis" in Amharic), a Jewelry school for underprivileged Jewish immigrants from Ethiopia. The course is 12 months long, during which the students receive a stipend while learning the trade of Jewelry making. The school also produces a special line of Jewelry labeled MEGEMRIA, a collection that reflects the Ethiopian heritage and culture.
A Video presentation of MEGEMRIA
Contact us to inquire more about a private tour of Jerusalem: