Jerusalem's Old City Muslim Quarter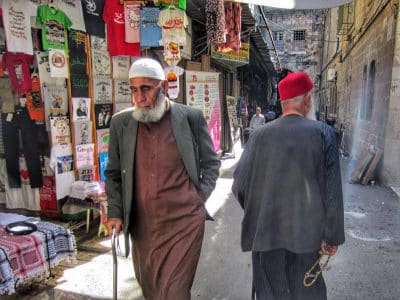 The Muslim Quarter is the biggest and most crowded part of the Old City of Jerusalem. Most of its streets are a local market (Suq), as well as great food places: Hummus Arafat (the Best!) and Hummus Abi-Shukri; Sweets and khnafah shop "Jaffar", Mutabak specialist "Zalatimo", and more. Some of the "Stations of the Cross"  (Via Dolorosa)  are also in the Muslim Quarter, as well other siginificant Holy Christian sites: the Terra Sancta Museum , "Ecce Homo" Arch, the Lithostrotos, Mary's Birthplace, Pools of Bethesda and the Prison of Christ by Greek-Orthodox tradition.
Visiting the Muslim Quarter
During the day time the Muslim Quarter gets pretty crowded, as the locals, shoppers, and tourists fill its alleys. It is recommended to combine exploring the Muslim Quarter in a Day Tour of Jerusalem.
Contact us to inquire more about a private tour of Jerusalem: