Abu Ghosh Kadyrob Mosque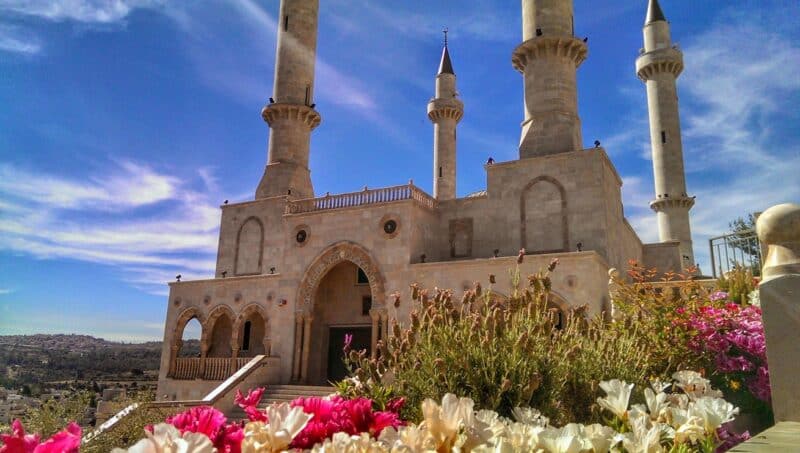 The Ahmad Kadyrov grand mosque in Abu-Ghosh is the second biggest mosque In Israel. Completed in 2014, it is named after Ahmad Haji Kadyrov, the Chechnian president who was assassinated in 2004.
History of the Kadyrov Mosque
The area of Abu Ghosh was settled already in the Neolithic age, some 6000 years ago. The ark of the covenant was stationed for 20 years at its hilltop (Kiryat Ya'arim), and later it was a road station on the way to Jerusalem. The Crusaders erected a large church is still intact to this day. In the Ottoman period the site was known for the being controlled by the Abu Gosh family, who imposed tolls on pilgrims passing through, as it was the main road to Jerusalem.  Some recorded brutal attacks in demand of the tolls, locking at times the travelers until they paid. In contrary, in the Israeli-Arab war in 1948, the village did not participate in any battles, and even supported the Israeli forces. The village claims to be of Chechnian descent, and after the assassination of the Chechnian leader, Ahmad Kadyrov, it offered his son and successor, president Ramzan Kadyrov, to jointly erect a mosque in Abu-Ghosh, in his father's memory. Completed and opened in 2014, the mosque can hold up to 3000 people. It is designed in Ottoman style, which is the favored architectural style in Chechnya. Its four minarets cannot be missed, and its marble coat give it a unique and grand look.
Touring Abu-Ghosh Kadyrov Mosque
The Mosque is in the eastern side of the village. It is open to non-Muslims only on special request.
A tour of the Mosque can be combined with a guided day tour of Jerusalem.
Contact us to inquire more about a private tour of Jerusalem: