Ben-Zion David Yemenite Art
Set in the picturesque alleys of old Jaffa, Ben Zion's Yemenite Jewelry workshop offers a unique experience of following the magical process of turning simple silver strands into intricate filigree jewelry. Ben-Zion's worktable, an 8th generation of this skilled hands David and his team creates a wide range of unique Judaica pieces and silver jewelry.
Adjacent to the workshop Ben-Zion also opened a small but charming visitor center that presents the special history of the Yemenite Jews and their cultural heritage.
Visitors are also invited to try Yemenite coffee and dates while listening to explanations.
Visiting Ben Zion's Yemenite Art Workshop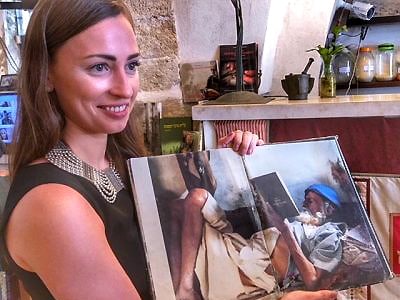 Ben Zion's workshop, showroom and visitors center is open every day except Shabbath. It is located along Mazal Dagim alley, opposite
Ilana Goor
 home and museum. A visit to the site can be a great break while touring Jaffa, especially for jewelry and art lovers.
A visit to the site can be combined with a guided day tour to Jaffa and Tel-Aviv.
Contact us to inquire more about a private tour Jaffa: