The Dead Sea: A Complete Guide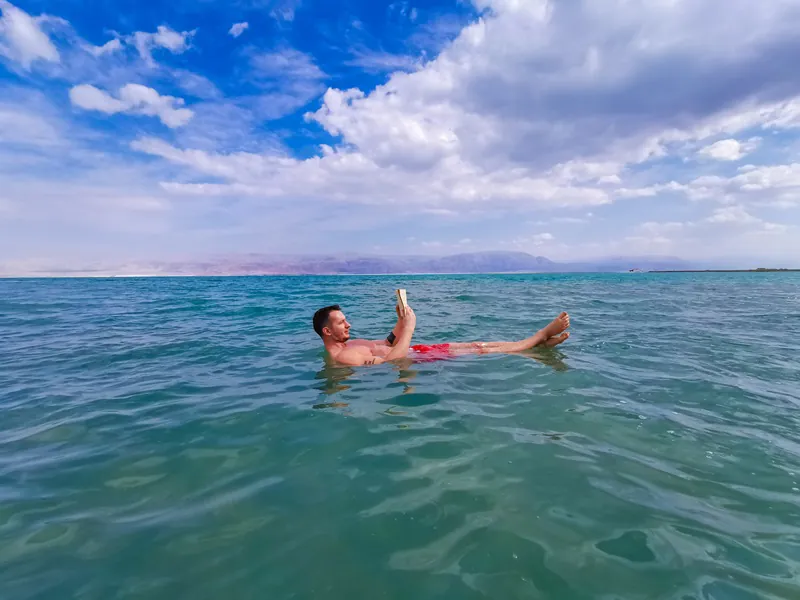 Nestled at the Earth's lowest point, the Dead Sea presents a mesmerizing spectacle as its still blue waters reflect the rugged cliffs of the Judean desert. Lying at the remarkable depth of 1400 feet (430 meters) below sea level, about one-third of the Dead Sea consists of dissolved salt from seabed deposits. Beyond its saline nature, the Dead Sea is rich in therapeutic minerals, historically appreciated for their healing properties. Today, tourists flock to Dead Sea hotels and beaches, indulging in its therapeutic waters, mud, and sun treatments known for rejuvenating the skin. To optimize the experience, here are some of some of the do's and don'ts and other useful information to enhances the visit to this bucket-list destination.
Top Three Do's at the Dead Sea
1. Go to a Good Beach
Today, there are only two areas where you can go for a swim along the Dead Sea's western shores. The beaches towards the top of the lake, near Qumran are popular as they are closet to Jerusalem. But they tend to be crowded and poorly maintained. Your best option would be to swim at one of the hotels, in the lake's southern part. The hotels offer a lunch and swim package deal. Our top recommendations are Herod's Hotel, a 5-star option; Vert hotel, 4-star hotel; and Hod Hotel, another 4-star hotel. All of these options offer a variation of the swimming, spa, showers and lunch packages.
2. Cover Yourself With Mud
The best benefit of the northern beaches is the free natural mud near the beach. At the hotel zone, there are no natural mud deposits, but you can purchase a bucket of it. Either way, you want to make sure you have this fun experience which will leave your skin smooth and clear.
3. Take Pictures!
Hopefully someone in your group has talent in taking great pictures. The Dead Sea with the desert views in the back makes for some of the most unique shots. Floating effortlessly on water, or all covered by mud –  The possibilities are endless! In addition to the wonderful aesthetic, you want to make sure this moment is captured for you to look back on and reminisce. Just make sure you're extra careful with your cameras and devices, as salty water is not too friendly!
Top Three Don'ts at the Dead Sea
1. Don't Shave the Day Before the Swim
We can't stress this enough. The salt level in the Dead Sea is so high, most life doesn't survive in it (hence the name). With that level of salt, you can imagine how even the smallest of cuts will sting. Our best tip, for men and ladies: save all shaving for a few days prior, or wait until after your Dead Sea experience.
2. Don't Dip Your Head in the Water
This one may not be as obvious as it sounds. You'd be surprised how many people do this intentionally, or accidentally. We said it before, and we'll say it again: The Dead Sea is one of the saltiest bodies of water on the planet. It's not like swimming in a pool or even the ocean. Although you would have to make an effort to physically dive in, you want to avoid burning your eyes. Splashing goes under this category too. In the event that you get water in your eyes, you can rush to the nearest outdoor shower (with a friend guiding you) and rinse your eyes with fresh water.
3. Don't go Barefoot
This is a good rule of thumb when visiting Israel, but especially for the Dead Sea. Just like you would protect your body with sunscreen and a hat, you want to protect the bottom of your feet from the very rocky bottom of the water. The northern beaches are especially rocky. You want to avoid cutting your feet, and remember what the salt can do to the slightest cuts.
The Dead Sea region is divided into public beaches and private hotel beaches. You let us know what sounds most appealing to you, and we'll arrange all the details. We've created brief descriptions about our favorite spots to visit depending on your vision for the trip.
Public Beaches
the public beaches charge entry fees, and offer public restrooms, showers and changing rooms. Depending on the time of year, these areas may get particularly crowded, so if you come during peak season, know that there will be heavier crowds using these amenities. If you don't intend to stay at the Dead Sea very long, and you only want to quickly check it out, we can definitely arrange a trip to one of the public beaches to accommodate your schedule.
Hotels
If you have the budget and can block out enough time, we highly recommend experiencing what the Dead Sea hotels have to offer. We hear time and time again from various clients about their satisfaction with the hotel experiences. Although there are many options to choose from, our personal favorites are: Herod's Hotel (5-star), Vert (4-star), Hod Hotel (4-star). These 3 options, although they provide different experiences, they all offer lunch, private swimming, and exclusive spa treatments. Since they are package deals, they tend to run between 70-125 USD per person. This pampering experience can make visiting the Dead Sea even  more memorable.
Contact us to inquire more about a private tour to the Dead Sea: