Mar Saba Monastery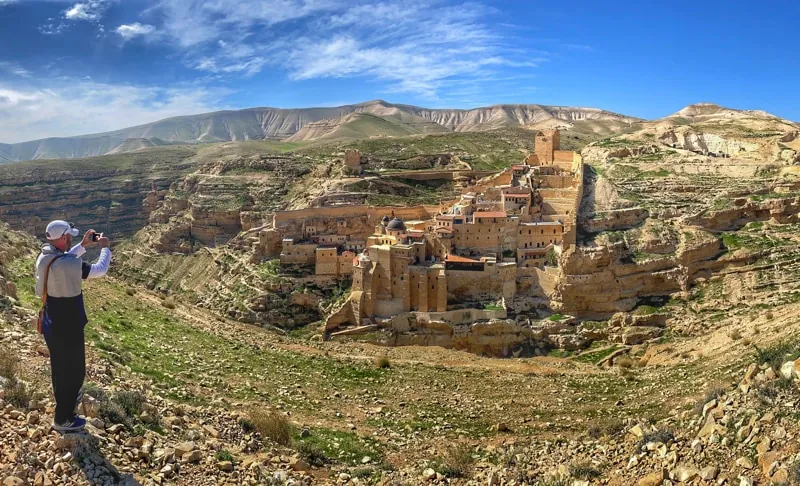 Set in the heart of the Judean desert, and built into a cliff above the Kidron valley, the Mar Saba Monastery is one of the most striking sights in the Holy Land. It is one of the oldest monasteries in the world, and the grandest in the Holy Land.
History of Mar Saba Monastery
During the Byzantine period (4th-7th centuries) many devout Christin monks were headed into the Judean Desert. They believed that living as a hermit in this wilderness is fulfilling God's will and following John the Baptist, and Jesus. Over 50 monasteries were established between Jerusalem and the Dead Sea during this period, and especially around Jesus' Baptism site, and the road leading to it from Jerusalem. Saint Sabbas was a Cappadocian-Syrian monk who arrived in the Holy Land in the 5th century. He first joined the Euthymius Monastery, and later settled in the Laura of Gerasimus. In 484 CE Sabbas settled in a cave along the Kidron valley. Monks that joined him led to the foundation of a monastery bearing his name – Mar Saba (In Syriac: Master Sabbas). By local tradition, a spring was mordaciously discovered beneath the monastery, providing water to the hermits. Sabbas founded additional monasteries in the Judean Desert, but after his death he was buried in Mar Saba monastery. The monastery was attacked by Persian in 614 CE but was restored a few years later. It was also maintained by the Crusaders, but when they left, they carried Sabbas' body with them to Venice. Only centuries later, in 1965, his body was brought back and reburied in the monastery.
Touring Mar Saba Monastery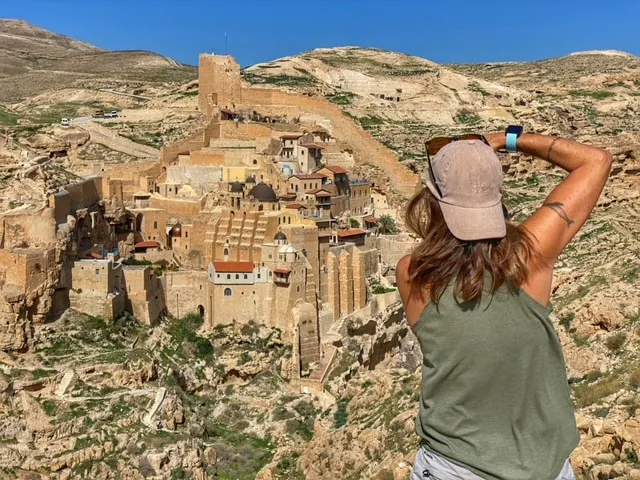 In its heyday, some 300 monks lived in Mar Saba Monastery. Today less then 20 maintain the site. Reaching it on paved roads is possible only through as area under control of the Palestinian Authority. An off-road vehicle can also reach it through dirt roads crossing the Judean Desert. These desert paths also lead to a stunning viewpoint of the monastery from a hill on the opposite side of the Kidron valley. Following a rule from Sabbas' time, women are not allowed into the monastery. They can view it from the adjacent Womens' tower. By local tradition, Sabbas refused even his mothers' visit to the monastery.
A visit to the monastery or it's viewpoint can be combined with a full day Jeep tour in the Judean Desert.
"After the long drive in the mountainous terrain, the view from the lookout over the monastery is full of grandeur and excites me time and time again"    (Team Member Pini Refael)
Contact us to inquire more about a private off-road tour to Mar Saba Monastery: