The Ecce Homo Arch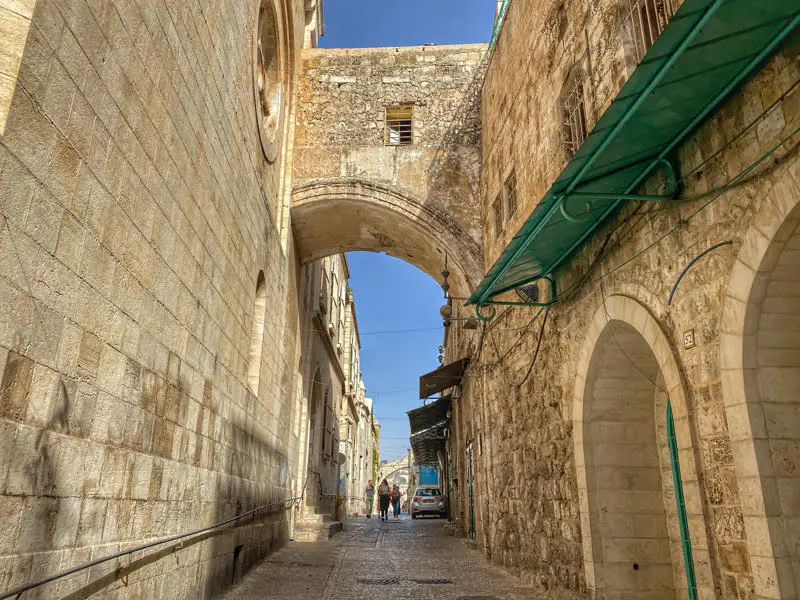 "Ecce Home" is the name given to a Roman triumphal arch placed between the 2nd and the 3rd stations of the "Stations of the Cross"(Via Dolorosa) in Jerusalem.
By Christian tradition the arch was part of the praetorium, the Judgment hall of Jerusalem in the first century. In year 33 CE Jesus was sentenced at the praetorium by the Roman governor, Pontius Pilate.  John 19:5 records Pontius Pilate presenting Jesus, during the trial, to the public, announcing – "This is the Man" (in Latin: "Ecce Homo"). The Roman-Catholic church believes the public presentation of Jesus occurred under this arch, so it was named after Pilatus' call.
The Archaeology of Ecce Homo Arch
Research conducted in the foundations of the arch in the 19th century provided evidence that the arch is really part of a free-standing structure, a triumphal arch. It is now acknowledged by the archaeological community that the arch was really constructed about a century later to the time of Jesus. It was probably erected by emperor Hadrian to mark the oppression of the second Jewish revolt, the Bar-Kokhva Revolt. The Arch stood in the middle of a large paved plaza, possibly the new city's Forum. It was part of the Roman re-establishment of Jerusalem as a Pagan city, re-named Aelia Capitolina.
Visiting Ecce Homo Arch
The Ecce Homo arch is above a busy street in the Muslim Quarter, along the first part of the Via Dolorosa. Its northern part is now embedded in a church commemorating the trial of Jesus, while the its southern edge is part of a mosque.
The church can be accessed through an archaeologist site under the Convent of the Sister of Zion. It presents mostly large sections of Jerusalem's Roman Forum, which by local tradition is the lithostrotos (John 19:13). It is also possible to descend under the forum's street level, and view a Roman era large water reservoir that still collects rainfall.
For a full appreciation of the site it is recommended to combine it in a guided day tour of Jerusalem.
Contact us to inquire more about a private tour of Ecce Homo Arch: