Touring Lod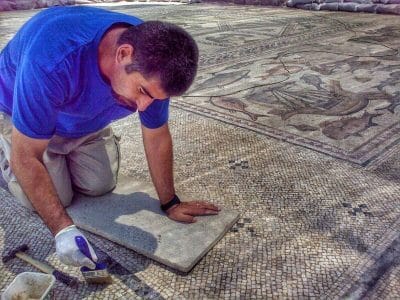 Located about 25 km east of Tel-Aviv, Lod is a city with a long and rich history. It was first settled some 10,000 years ago and was inhabited during the Canaanite and Israelite periods. The Bible indicates Lod was resettled also in the days of Ezra and Nehemiah. Under the name Lydda, Lod became a regional center in Roman times. At some point its name was changed to Diospolis ("City of Zeus"), which may indicate the veneration of the Greek god Zeus in the city. Roman Lydda may have been officialy a Pagan city, but it did have a Jewish community. The New Testament also records Peter preforming a miracle in the city.
Lod and Christianity
The book of Acts records Peter healing a disabled man  in Lydda:
"As Peter traveled about the country, he went to visit the Lord's people who lived in Lydda.  There he found a man named Aeneas, who was paralyzed and had been bedridden for eight years.  "Aeneas," Peter said to him, "Jesus Christ heals you. Get up and roll up your mat." Immediately Aeneas got up. All those who lived in Lydda and Sharon saw him and turned to the Lord." (Acts 9:32-35).
Interestingly, the main church of Lod does not commemorate the healing of Aeneas by Peter, but rather an alternative local tradition relating to a Roman soldier and a saint named Georgius. Georgius was a native of Lydda who joined the Roman army. By his late 20's he was promoted to the rank of Tribunus and was stationed as an imperial guard of the Emperor. In 302 CE Diocletian declared on new anti-Christian edicts. Georgius objected and with the courage of his faith approached the Emperor and rule and declared on his faith in Jesus. Diocletian attempted to convert Georgius, offering gifts of land, money and slaves, but to avail. Georgius was tortured by laceration on a wheel and was executed by decapitation. His body was later taken for burial in his hometown, Lod. When Christianity prevailed, Georgius was titled a Martyr and a saint, and a church was built over his tomb. Later the citys' name was changed to "Georgiopolis".
How Georgius Became to be George
In the middle ages a legend developed around his figure of saving a girl from a fire spitting Dragon. Under the western name "George" Georgius became the patron of many cities and countries, such as England, Portugal, Georgia, Ethiopia, Lita, Moscow, Genoa and more. The current church over the tomb of Saint George in Lod is based on a church from Crusader times, although part of it became a mosque in the Mamluk period. Every November 16th the Eastern churches commemorate the martyrdom of Saint George with a big procession in the church.
After the Muslim conquest, Lod was elevated to a regional capital. The Muslims also venerated the local Christian Martyr George, equating him with  the Muslim figure of el-Khader. In Crusaders times the city was Christian again, and even had an independent military force called Militia Sancti Georgii. When the Mamluks re-conquered Lod they turned part of the Church of Saint Geoge into a mosque. In the 1930's the British built an international air-port next to the city and named it "Lod Air-port". Later the State of Israel renamed it after its first Prime-minister, David Ben-Gurion. Today Lod is a mixed city of Arabs and Jews, with a colorful market and several points of interest.
Touring Lod
At the Eastern entrance to Lod the 700 year old Baybars bridge still carries the weight of cars, since Mamluk times. In 1996, not far from that bridge, a spectacular mosaic floor of a Roman villa was discovered, by chance, while installing a pipeline. It was especially famous for its depictions of African wildlife and sealife. In 2022 it was finally opened to the public.
At the heart of the old city, the Greek-Orthodox Saint George church is a popular Christian pilgrimage destination. In it's crypt a stone coffin marks the tomb of O AGIOS GEWRGIOS – Saint George. The architecture of the adjacent mosque leaves no doubt that it is a re-use of a romansque style Crusaders church. At the other end of the parking lot, a synagogue marks Jewish presence in central Lod as well.
A tour of Lod can be combined in a guided day tour in the Judean Foothills (the Shephelah).
Contact us to inquire more about a private tour to Lod: