Mount Tabor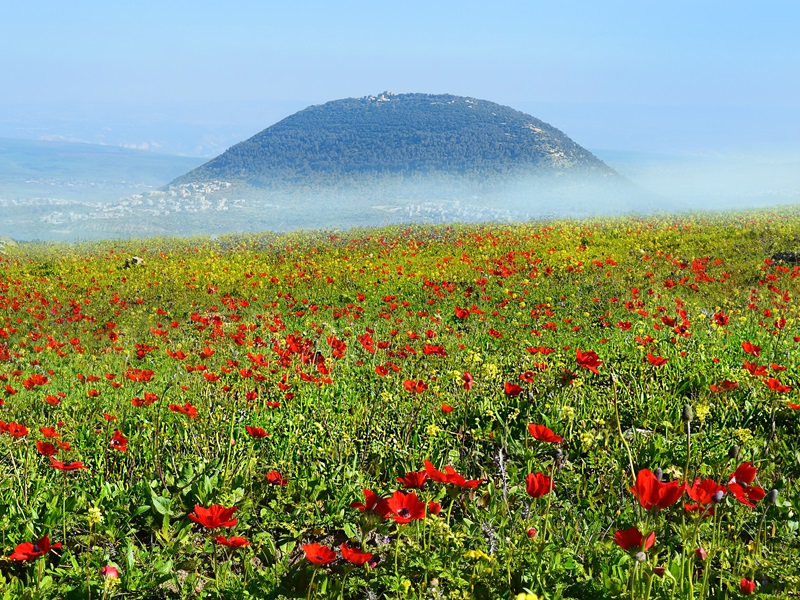 Situated alongside a major trade route, Mount Tabor is an important historical landmark in northern Israel. Moreover, referred to as the "Mount of Transfiguration," the site also holds profound significance for the Christian world.
A Brief Historical Review
The unique rounded shape of Mount Tabor sets it apart from the surrounding landscape. In Biblical times, this mountain symbolized the majesty and power of the Lord (Jeremiah 46:18; Psalms 89:13). It also played a pivotal role in the one of the Israelites' victories against the Canaanites (Judges 4). However, the foremost religious significance of Mount Tabor lies in its association with the Transfiguration of Jesus. By Christian tradition, this is the site where Jesus underwent a remarkable transformation in the presence of Moses and Elijah (Matthew 17; Mark 9; Luke 9). Its significance in Christianity led to substantial development of its summit in Byzantine and Crusader periods. Today, a magnificent Catholic church crowns the top of the hill, adorned with stunning stained-glass windows, mosaics, and frescoes.
Touring Mount Tabor
Rising at an elevation of 1,840 feet (560 meters) above Sea Level, Mount Tabor's summit is accessible only via a winding, narrow road. Nevertheless, the steep ascent provides stunning panoramas of the lower Galilee and the Jezreel Valley, known also as the Plain of Armageddon. The Catholic Church of the Transfiguration welcomes visitors every day of the week, from 8:00 to 12:00 and 14:00 to 17:00 (18:00 in the summer).
A tour of Mount Tabor can be incorporated into a day tour in the north
Contact us to inquire more about a private tour Mount Tabor: