Nahalat Binyamin Arts and Crafts Fair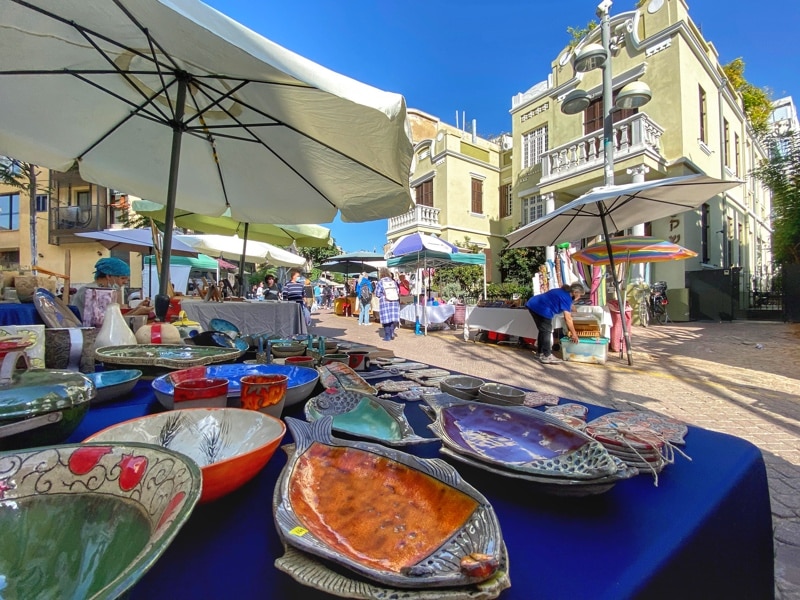 Set in the heart of Tel-Aviv, Nahalat Binyamin was established in 1911 as a colony next early Tel-Aviv. Unlike its neighboring Rothschild boulevard, most of Nahalat Binyamin's original buildings are still standing, many are now restored with loving hands. A walk along its main street, with all the Bauhaus and eclectic style bright structures, feels like a going through a set prepared for a 1930s movie scene.
Arts and Crafts Fair Established
Since 1987, twice a week the main street turns into a colorful pedestrian market, where about 220 local artisans present their own special crafts. From blown glass miniatures, to Ethiopian style pottery and woodworks, this market is a burst of creativity and fun for the whole family. The artists are selected by a special committee and must demonstrate originality and creativity. Some show how they form their creations at the market itself, nest to occasional street performers. With so much to see, experience and shop, it is no surprise that the fair is a popular destination, by locals and tourists alike.
Touring the Nahalat Binyamin fair
The fair operates twice a week, on Tuesday and Friday, between 10:00 to 18:00 (in the winter till 16:30). It is a fun getaway while staying in Tel-aviv, and a great place to purchase unique souvenirs to take back home. Strolling along these streets combined, you unveil the heart of Tel-Aviv and its fascinating special local culture, architecture, people and places.
A tour of Nahalat Binyamin Crafts Fair can be combined with a guided day tour to Jaffa and Tel-Aviv.
Contact us to inquire more about a private tour to Nahalat Binyamin: