Rothschild Boulveard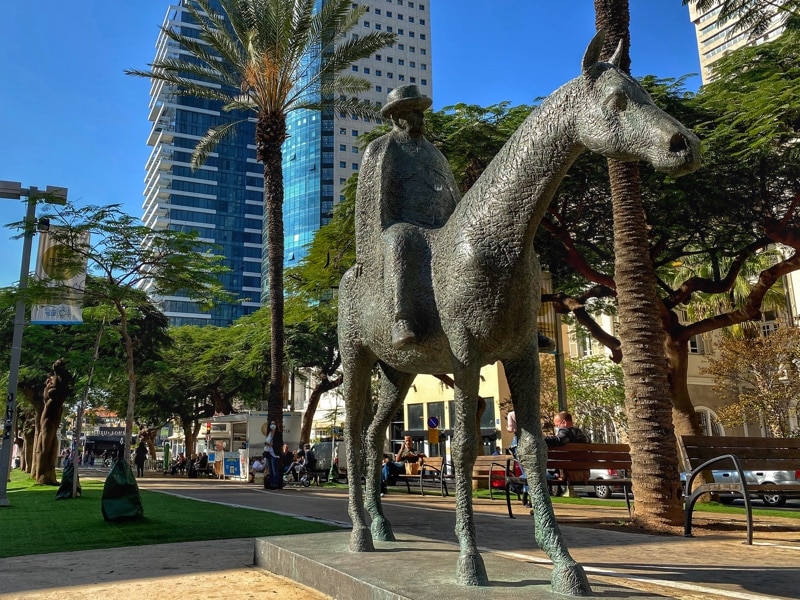 When Tel-Aviv was founded in 1909, Rothschild Boulevard was designated to be its main avenue. Today, in the heart of the city, Rothschild Boulevard is a major financial, commercial recreational, and culinary center.
Rothschild and Rothschild Boulevard
In 1909, about 60 Jewish families purchased a sandy plot northeast of Neve Tsedek, wishing to establish another Jewish colony outside over-crowded Jaffa. Rothschild Boulevard was defined as the main east-west axis of the new colony. It was named in honor of Jewish philanthropist Edmond James de Rothschild. Tel-Aviv developed quickly, and within two decades, its original single-story houses were replaced with eclectic and International-style / Bauhaus-style buildings.
Being such a central street in Tel-Aviv, from the 1960s, high-rise buildings were added along the boulevard. However, strict rules of preservation were made to protect the historical buildings. Today, entrepreneurs continue to the develop the boulevard, while restoring its historical architectural masterpieces.
Touring Rothschild Boulevard
Shaded walkways, bike lanes and sculptures make up the central part of the boulevard, and a variety of coffee places and restaurants offer fantastic culinary experiences. The boulevard is one mile long, framed by Neve Tzedek neighborhood in the south, and Habima theater in its northern end.  The boulevard is also an open museum of architecture, especially of the local trends from the first half of the 20th century. Many buildings reflect the Eclectic or Neo-Oriental style popular in the 1920s, and then swept away by the Bauhaus or International style, introduced in the 1930s.    Some of its notable buildings and monuments: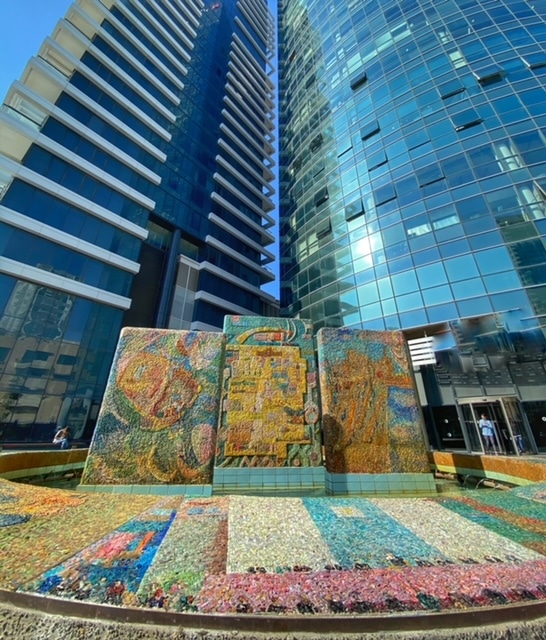 Nahum Gutman Fountain (Rothschild 1) – In 2010, at the southern end of the boulevard, an ornate fountain presents detailed mosaic work of Nahum Gutman. One of Tel-Aviv's most known artists, his work complements another mosaic wall at  Shalom Meir Building Visitor Center. Both present a visual review of Tel-Aviv's early history.
Fogel House (Rothschild 12) – A two-story building tha was built by Avraham Fogel, the manager of the Russian post office in Jaffa. For the last few years, a conservation project has been working on turning the building into a boutique hotel, and add two high-rises above it.     Opposite it, along the boulevard's pedestrian walkway –
Tel-Aviv's First Kiosk – A controversial stand for selling mostly sparkling water. Some early residents opposed it, fearing it would give the street a commercial character. If only they saw the street a century later… The original wooden structure was removed in 1987 and replaced in 2004 with the current replica. It still offers flavoured sparkling water.
Independence Hall (Rothschild 16) – Undoubtfully the most significant historical building along the boulevard, and perhaps in all of Tel-Aviv. The plot was the home of Meir Dizengoff, Tel-Aviv's first mayor. Later, after being turned into a Bauhaus-style building, it was the site of the city's first art museum. However, its historical significance stems for being the place where on May 14th, 1948 Ben-Gurion declared the State of Israel. Currently the building is under major renovations, to be completed by 2022.
Rothschild 18-20 – Two similar Bauhaus-style buildings unusually painted in light brown. They were purchased by the Rothschild Foundation and nicely conserved in 2007.
Rothschild 22 – A modern skyscraper made of cement and glass accurately represent well the modern architecture taking over parts of the boulevard. Part of the building is a boutique hotel (Rothschild 22) offering good service, great location, and great views from all its room. The building is also the Facebook Israel headquarters.
Rothschild 24 – An unappealing 1970s structure is only worth mentioning only for its popular rooftop resto bar "Speak Easy". Its neighboring Bauhaus-style buildings (Rothschild 26-28) are in desperate need of proper conservation.
Ginosar Hotel / Ben Nahum Hotel (Rothschild 32) – At the corner of Rothschild and Allenby street, the 1921 Ginosar Hotel was the first luxury hotel in Tel-Aviv. Its ornate eclectic style stands out, and most notably is its quirky dome. Restored beautifully in 2013, it is currently home of "Banking and Tel-Aviv Nostalgy Museum".
Mayer Tower (Rothschild 34) – At the opposite corner of Rothschild and Allenby streets stand the very modern and tallest apartment building in Israel. Its rooftop penthouse sold for NIS 200 million.
Tel-Aviv Community House (Rothschild 42) – The corner of Rothschild and Yavneh Street once marked the eastern end of Tel-Aviv. This building, on the edge of Tel-Aviv in its early years, provided religious services, including weddings celebrated on its rooftop. In 1965, it was purchased by FIBI Bank, whose high-rise headquarters building towers next to the conserved building.
Levin House / The Russian Embassy (Rothschild 46) – Built in 1924 by Yaakov Levin, it is one of the most ornate buildings along Rothschild Boulevard. In the 1950s, it was used for a few years as the Russian Embassy. Beautifully restored, today is home of Heseg organization.    Rothschild Boulevard now bends to the north. At its northern end, it presents a few more well restored historical buildings. Most notable are –
Angel House (Rothschild 84) – built in 1933, Angel House was one of the first Bauhaus-style buildings in Tel-Aviv. Furthermore, the use of pillars at floor level would later be replicated in many other buildings in Israel.
Rothschild 88 – An ornate eclectic / Neo-Oriental style building founded in 1926 and restored with loving hands in 2008. It is also noticble for "The Choir" sculpture set on its front balcony.
Friedman House / Rothschild Hotel (Rothschild 96) – Another building following the eclectic trend of the 1920s. Originally built by Avraham Friedman, the Chief Agronomist of James de Rothschild. Today, it is a boutique hotel carrying the name of the boulevard.
Shimon Stern House (Rothschild 104) – Built in 1928, it interestingly combines early elements of Bauhaus-style.    It is also recognizable for being painted in blue pastel colors. Beautifully restored in 2015, today it is the headquarters of the Rothschild Foundation.
Rappaport House / Acum House (Rothschild 118) – The former home of Tel-Aviv's mayor, Israel Rokah, was also the offices of Israel's Artists Association (אקו"ם). Caring restorations present its special 1930s Bauhaus design in a remarkable way.
Aharonovitsh House (Rothschild Boulevard 117) – A "Classic" 1930s white-colored Bauhaus-style building, popular for its unique rounded stairway.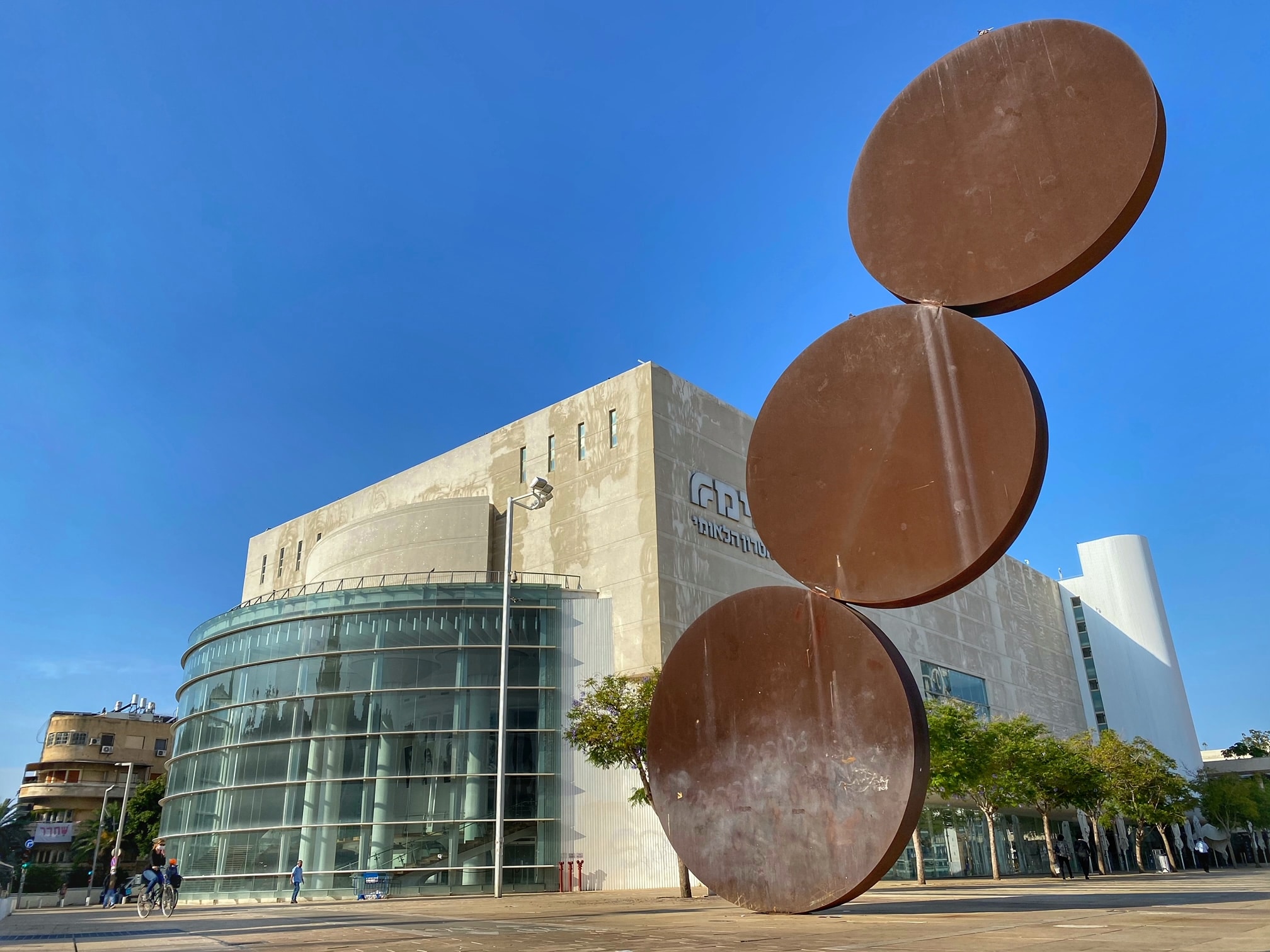 Habima Theatre – "Habima" (Hebrew: the stage) Theatre began operating in Bialistock and Moscow by Jewish performers. Its members immigrated to Israel in 1928 and settled in Tel-Aviv. Their theater was eventually established at the northern end of Rothschild Boulevard. The theater's original design, from 1935, was also Bauhaus / International-style. However, today, after several renovations, it looks quite different.
Moses House (Rothschild 13) – Built in 1925 for David Moses, Chairman of Argentina's JNF, the building has a composite eclectic design. Today, in private hands, the building was well conserved, restoring its remarkable façade.
Golomb House (Rothschild 23) – Built in the 1920s, the house was home of the Golomb, Hoz and Shertok families, whose members were later in leadeeship positions in the state. In the 1940s, the house was also the headquarters of the Haganah Jewish Brigade. Its subtle eclectic design was conserved by the state of Israel, and today the building is a museum of the Haganah.
New-York Hotel (Rothschild 25) – Intended to be a hotel (New-York Hotel), this building is another subtle 1920s eclectic design. It also bears several 19th century Ottoman architectural elements, borrowed from contemporaneous buildings in Arab Jaffa. Today, after conservation, it is an office building.
Moyal House (Rothschild 27) – This eclectic style building, from the 1920s, was built by the industrialist Shmuel Moyal. Nowadays, it is the El Al Israel Airline's headquarters.
Laderberg House (Rothschild 29) – At the corner of Rothschild and Allenby, the Laderberg House is one of the most ornate buildings of early Tel-Aviv. Built in 1922, the rounded porches are decorated with metal balustrades shaped like a Jewish candelabra (Menorah). On the walls, painted tiles illustrate biblical themes landscapes.
Despite Tel-Aviv's never-ending development, Rothschild Boulevard retains its status as trendy, and one of the most beautiful parts of the city.
We recommend having a guided tour of the avenue as part of a guided day tour of Jaffa and Tel-Aviv.
Contact us to inquire more about a private tour of Jaffa and Tel-Aviv: