The Shepherds' Field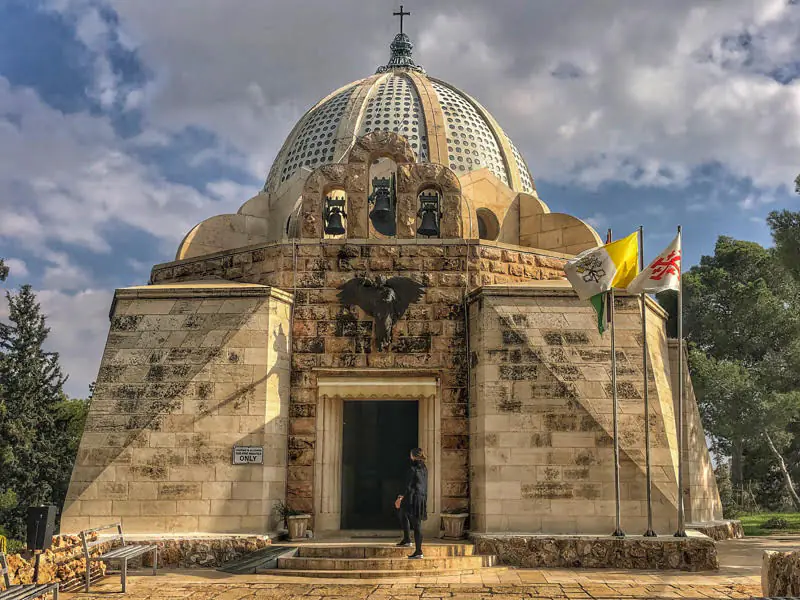 Nestling in the slopes east of Bethlehem, about a mile from the Church of the Nativity, the 'Shepherds' Field' is where the angel first announced on Jesus' birth (Luke 2:7). Today, two sites commemorate the event, both within the suburb of Bethlehem called Beit Sahur.
The Greek-Orthodox Site
Notable for its red dome, the Greek-Orthodox church is built above byzantine-era remains and some caves. Called in Arabic "Deir el-Ruat" ("The Shepherds' monastery"), the church is believed to be over the caves where shepherds watched over their flock. The Byzantine remains are said to be of a church built by Queen Helena, in 326 CE.
The Roman-Catholic Site
About 1200 feet north of the Orthodox site is an additional site where a Byzantine-era remains were found among caves. Called in Arabic 'Siyar el-Ghanam' ("The Den"), in 1954 a tent-shaped chapel was built here, designed by the master Catholic architect Antonio Barluzzi. Inside, beautiful frescoes depict the nativity of Jesus and his adoration by the Shepherds.
The Shepherds' Field and the 'Field of Boaz'
The Shepherds' Field is also identified with the general location of 'Migdal Eder'. Here, according to the Old Testament, Jacob camped after the death and burial of Rachel, his favorable wife (Genesis 35:21). Furthermore, it is also identified with the 'Field of Boaz', a wheat field of a landlord named Boaz. According to the Scroll of Ruth, here Ruth met Boaz while picking barley left by the harvesters (2:4). Getting married, they became the great-grandparents of King David.
Touring the Shepherds' Field sites
The Catholic site is administrated by the Franciscans. It is open every day of the week, free of charge. The Greek-Orthodox site is open only for reserved groups.
A visit to both sites can be combined with a tour of Bethlehem.
Contact us to inquire more about a private tour Bethlehem: