The Broad Wall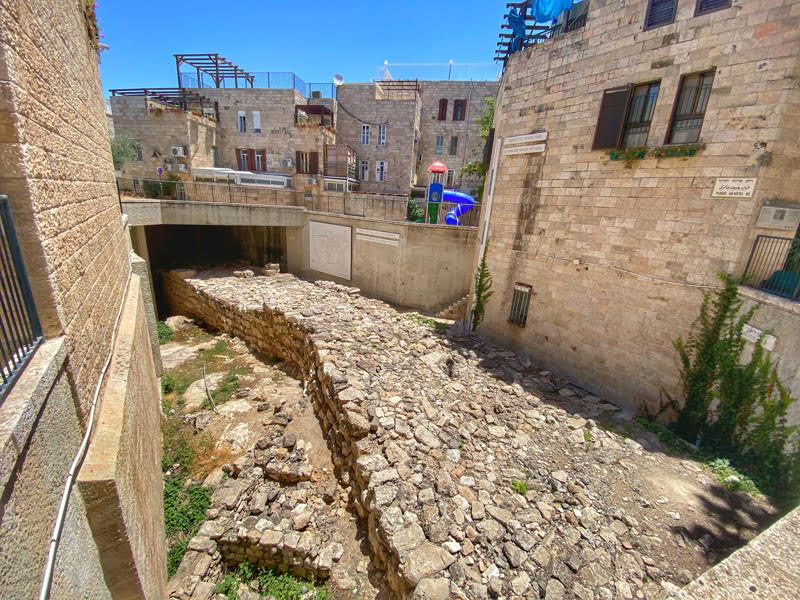 In 1948, during the Israeli-Arab War, the Jordanians conquered the Jewish quarter, and cleared all its Jewish population. The Jewish quarter was left in ruins for 19 years, until 1967. As a result of the Six Days War, Jerusalem was re-united again, but now under Israeli sovereignty. The Jewish quarter was rebuilt, yet before its reconstruction, a large scale excavation project was conducted. Many different discoveries were made, many of which became popular tourist attractions, such as the Cardo, the Herodian Quarter, and more.
Among others, the archaeological expedition uncovered the foundations of an unusually wide wall. The expedition labeled it as "The Broad Wall", which is mentioned in the book of Nehemiah (3:8), although the dating material indicated it was built already in the 8th Century. The most common assumption is that the wall was built by Hezekiah, anticipating a massive Assyrian attack on the city. Next to it the archaeologists found further evidence of additional fortifications added in front of it. These were perhaps added in the time of king Zedekiah, fortifying the city again, this time against the Babylonians.
Did the Broad Wall Lead to a World Religion?
The fact that Sennaherib failed to conquer Jerusalem had a major impact on the history of Jerusalem, Judaism, and actually – all mankind. Surviving the Assyrian assault, King Hezekiah launched a religious reform that led monotheism. At the same prophet Isaiah's proclaimed for the first time on the concept of Messiah. The combination of both is the essence of the main religion in the World today – Christianity,
Visiting the Broad Wall
The Broad Wall is on public display in the heart of the Jewish quarter, next to the Cardo. On its outer face one can even see foundations of houses which were cleared to build the wall. This evidence matches well the call of prophet Isaiah to clear houses so the city can be fortified (Isa. 22:9-11).
To get a full appreciation of the site, it is best to combine it with a Day tour of Jerusalem.
Contact us to inquire more about a private tour of Jerusalem: