Timna
Located in the southern Aravah desert, about 18 miles north of Eilat, Timna is one of the biggest parks in Israel. Covering an area of 15,000 acres, the park combines stunning desert landscapes, unique geological features, and fascinating archeological finds.
History and Archaeology of Timna
Timna was first recognized by the Canaanites for its ores of copper. The veins of green rock, especially if mixed with a bit of zinc, was the first metal used to create weapons, household tools, and cultic objects. Raw copper was quarried in Timna in large quantities both by the Canaanites, the Egyptians, and the Israelites. Thousands (!) of mining shafts spread throughout the park attest to the industrial scale of this quarrying, as well as campsites with smelting furnaces. The Egyptian also built a temple to Hathor, which was also used by the Midianites. Finding copper snakes in this temple evokes fascinating links to the biblical copper serpent (Numbers 21:4-9). Furthermore, within the park is a life-size replica of the biblical tabernacle, suggesting its shape and operation in the time of Moses. Guided tours of the model, by a devoted staff, provides an exciting experience for any Jew or Christian.
Hiking in Timna Park
The park also offers some 20 hiking trails going through enchanting landscapes and magnificent rock formations. The 'Mushroom', the 'Marlboro Arch', 'Solomon's pillars', ancient rock art and mining shafts are just some of the destinations you can reach in these excursions.
Touring Timna Park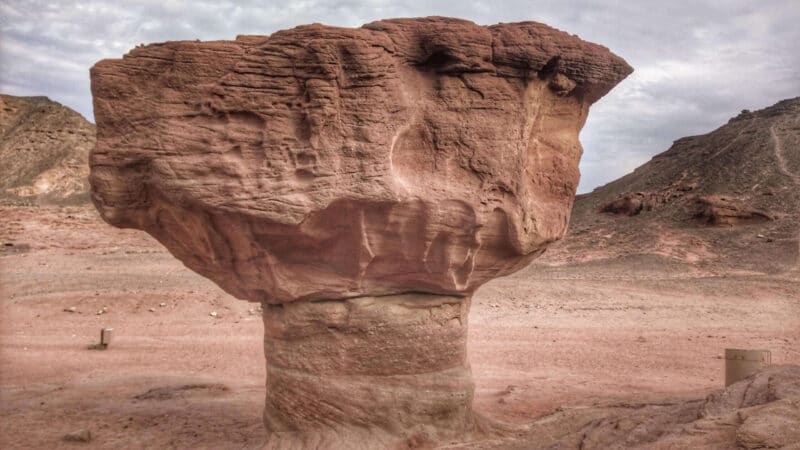 The site is open every day of the week and charges an entry fee. A visitor center next to the main entrance provides a nice multimedia presentation of the park, and especially of its copper mining activity. Next to the Tabernacle replica is an artificial lake, a souvenir shop, a restaurant, and a camp site. There are also some children-friendly activities such as color sand bottling and sailing in pedal boats in the lake.
A tour of Timna Park can be combined with a tour of Eilat.
Contact us to inquire more about a private tour of Timna Park: