AHAVA Factory store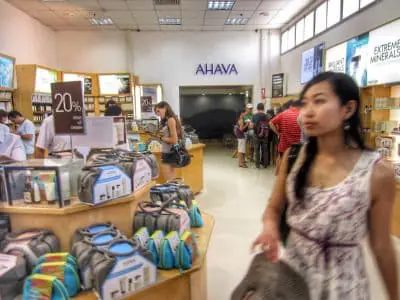 The healing powers of the Dead Sea are known from ancient times.  2,000 years ago, King Herod soaked in its water and bathed at its thermal as a remedy. Despite its morbid name, the Dead Sea is source of rich minerals which are known especially for rejuvenating and invigorating the skin, improve metabolism and promote good circulation. Ahava is the leading company to manufacture skin care products made of minerals and mud of the Dead Sea. Founded in 1988, the company is especially known for anti-aging products, hand creams and facial cleansers.
Visiting Ahava Factory Store
Ahava's Visitor Center and factory store is next to its packaging facility, 8 miles north of Kibbutz Ein Gedi. It is open every day 8:00 to 17:00 and offers free factory tours. Expert representatives are available to consult on the best products for your skin. There are also gift packages that could make a perfect souvenir to bring back home, to both family and friends. There is no obligation to buy any of the products, but being a factory store, here you can get the best package deals for Ahava's famous products.
A visit to the site can be arranged as part of a day tour of the Dead Sea.
Contact us to inquire more about a private tour to the Dead Sea: