Akko
Akko is a port city along the northern shore of Israel, 20 km south of the border with Lebanon. With its rich history, a wealth of preserved remains, and colorful modern-day market, no wonder Akko is an UNESCO World Heritage Site that attracts many tourists from all over.
History of Akko
Akko's earliest human settlement was in the Canaanite times. The hill of the Canaanite City was used 4 millennia later by Napoleon, in his failed attempt to conquer the city. Phoenicians, Egyptians, Greeks, Romans, Byzantines, Muslims, and Turks all ruled Akko, but perhaps the most significant were the Crusaders. Akko's old city layout is mostly based on the Crusaders' development of the city. In 1799, Akko's reinforced walls helped defeat Napoleon. Later, in the 19th century, the Ottomans imprisoned the Baha'u'lla, most significant person in the Bahai faith. His prison cell, and home, near the city, eventually became holy shrines for Bahai believers. After the state of Israel was established, Akko developed into a religiously diverse city. Today you will notice Jews, Christians and Muslims, cohabitating. However, the population of the Old City today is predominantly Muslim.
Touring Akko
The state of Israel financed large scale excavations in Akko, as well as tourism development. The Hospitallers Citadel is probably the best site to appreciate the scale of the Crusaders' development of Akko. The huge halls standing today can attest to the large-scale military operations the Crusaders conducted to defend the kingdom. It's also evidence of their commercial involvement and accommodations for the endless flow of Christian pilgrims from Europe visiting the Holy Land. Next to it, Al-Jazzar Mosque illustrates one of the best and biggest examples of Muslim religious architecture from Ottomans times. Not as big, but similar in design, Akko's Turkish Hammam, which is behind the mosque, is also a good example of Ottoman architecture and culture.  Continue walking along the winding street of the main market of the old city. The Main street of Akko's old city is a popular bazaar. In the morning the local fisherman showcase the "catch of the Day." At lunch time the local Hummus and Shawarma restaurants are great options for local and authentic street food.
Sailing Around Akko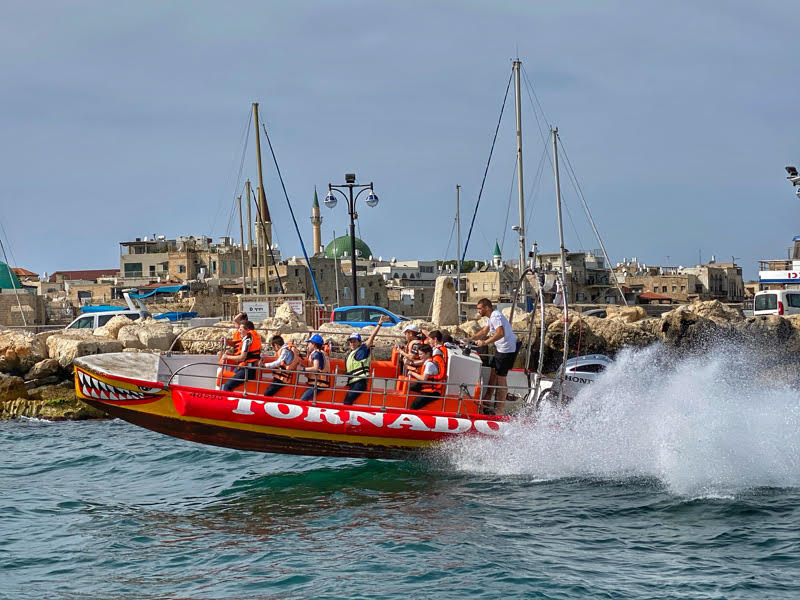 The "Golden days" of Akko's port are well in the past, but it still serves local fisherman and offer tourists a sail around the Old City's walls. For those seeking a more extreme experience, speed boats offer adrenalin filled fast speed 10 minutes rides. From the port, you can also walk underground along the Templars Tunnel towards the lighthouse. Near the Old City, the Akko Mosaics synagogue and the Tomb of Baha'u'llah (Bahji) are also well worth visiting.
A tour of Akko can be combined with a day tour in the north.
Contact us to inquire more about a private tour to Akko: