Armenian Quarter
The Armenian quarter is the smallest quarter in Jerusalem's the old city and is not no longer exclusively Armenian. A third of the Armenian Quarter is owned and settled by Jews, and it is also home for institutions of the Anglican and Assyriac Church.
History of the Armenian Quarter
The Armenian Quarter was part of Biblical Jerusalem when the city expanded in the 8th and 7th centuries BCE. In Roman Times King Herod built a palace at its northern end, and later it was the military camp of the 10th legion. Armenians settled in this area only in the Byzantine Period, and in the Crusader times, its main cathedral was built – Saint James Cathedral.
Points of Interest in the Armenian Quarter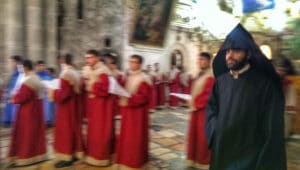 Saint James Cathedral is the main church of the Armenian community in the Armenian Quarter. By local tradition it holds relics of Saint James, the brother of Jesus. It was constructed in the time of the Crusaders and is one of the most impressive churches in Jerusalem. Unfortunately, it is open for merely 30 minutes each day for the public. Next to it, the Church of the Archangels is according to local tradition built over the house of the Annas. Together with his son in law, Caiaphas, Annas interrogated Peter and John at this location (Acts 4:6). Saint Mark's Syriac Orthodox Church is the main church of the Syriac church. Local tradition recounts that it is built over the house of Saint Mark. Near Jaffa gate, Christ Church represents the Anglican church in Jerusalem. Besides religious institutions the Armenian quarter is mostly residential, but it does have a few souvenir shops, and especially some unique Armenian Pottery Workshops.
For a full appreciation of the Armenian Quarter and its sites, it is recommended to combine it in a guided day tour of Jerusalem.
Contact us to inquire more about a private tour of Jerusalem: