Jerusalem's Christ Church
Christ Church was established by the Anglican church in Jerusalem the 19th century. It is in a prime location near Jaffa Gate and the Armenian Quarter. It serves a local congregation of Anglican Christians and Messianic Jews. It also operates a guest house and a cafeteria.
History of Christ Church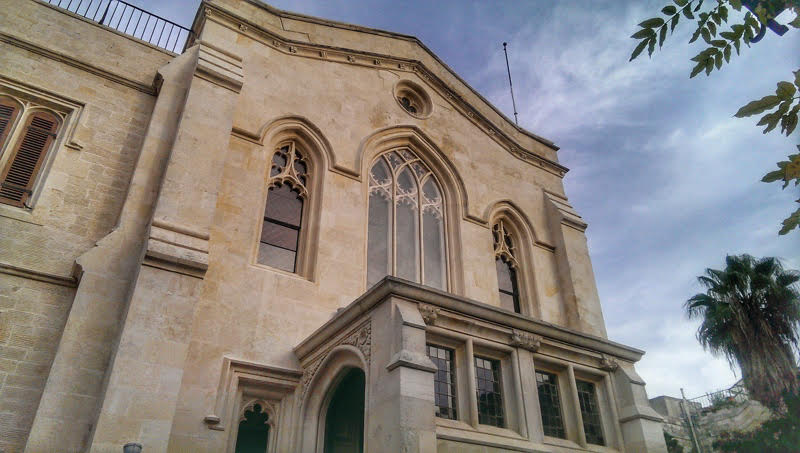 In 1809 the Anglican church established in London the "London Jews Society" aimed to convert Jews to Christianity. In 1833 they purchase a plot near Jaffa Gate and David's Citadel. The complex would have a consulate of Great Britian, a school, and a workshop of olive wood souvenirs (managed by the renowned scholar Conrad Schick). In 1849 its main church was completed, after much effort.
Christ Church and Israel
The missionary activity of the Anglican church in Jerusalem was not too successful (to say the least), which led to a split in its policy towards Israel. Part of the Anglican church adopted a pro-Palestinian policy, as well as most of the Anglican Church in the UK. However, Christ Church is quite pro-Israeli. Like the evangelical Church, it sees the return of the Jews to their homeland a fulfillment of Biblical prophecies. Being so, some of their services are conducted in Hebrew, and even includes prayers for the safeguarding of Israeli soldiers.
Touring Christ Church
Christ Church is designed in Neo-Gothic style, resembling medieval churches in Great Britain, but its interior design is quite unique. There is not a single cross present in its decoration. Instead, a wooden Torah ark is placed in its apse, decorated with Hebrew verses, of the Ten commandments, and the Lord's prayer. Its front is decorated with a Jewish Menorah. The wooden bema is also decorated with verses in Hebrew. The feel of the interior is a bit like a synagogue, and it is also oriented towards the Temple Mount. Christ Church is perhaps the most hybrid Church-Synagogue building in the Holy Land.
A tour of Christ Church can be combined with a guided day tour of Jerusalem.
Contact us to inquire more about a private tour of Jerusalem: