Extra Adventurous Activities in Caesarea
Even if you have toured ancient Caesarea before, you might want to consider returning to this fascinating site. Around the national park are a few hidden Gems also worth exploring, and there are several extreme' activities you might consider.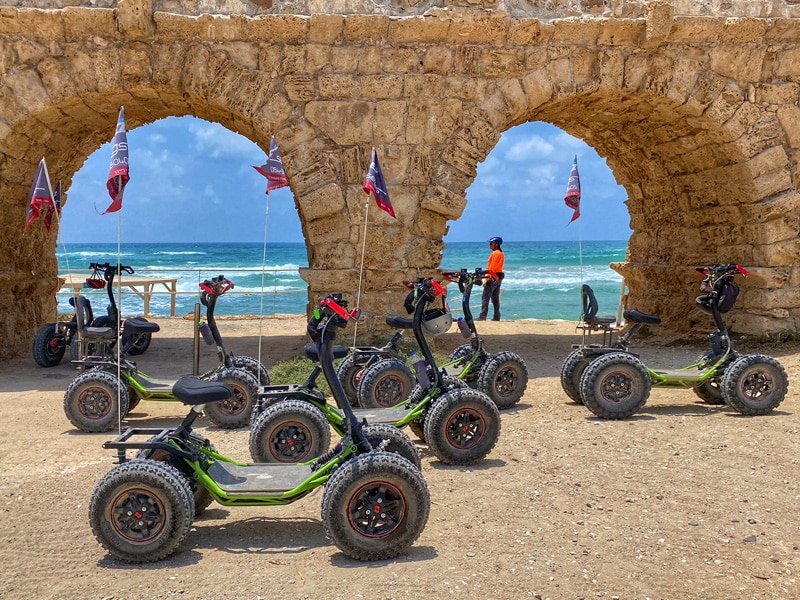 EZRaider – A 2-hour extreme tour experience of driving in special mini ATV apt for sand dunes. The tour mostly explores mostly the perimeter of the Caesarea's national park, including the Birds Mosaic Mansion, the aqueduct, The Synagogue, the Eastern Hippodrome, ending near Caesarea's golf course.
Snorkeling – The submerged port of Caesarea can still be appreciated by snorkeling or scuba diving along the sunken harbor. Caesarea's underwater archaeological park, the first of its kind in the world, is about 40 acres in size. It contains 25 points of interest, that includes ruins of the port, ancient anchors, and a sunken ship from the early 20th century.
Powered parachute flights – The ultimate extreme tour experience for Caesarea! The special aircraft takes off from the sites' parking lot and flies low and slow above Caesarea's antiquities and along the coastline. This experience guarantees an adrenalin rush and stunning views of one of the most beautiful views in Israel!
These activities could be combined in a tour of Caesarea and other sites in its vicinity.
Contact us to inquire more about a private tour of Caesarea: