The Garden Tomb
The Garden Tomb is a site near Jerusalem's Old City that is suggested by some to be crucifixion and burial of Jesus. Although most archaeologists refute this proposition, the site still attracts many visitors and pilgrims.
History of the Garden Tomb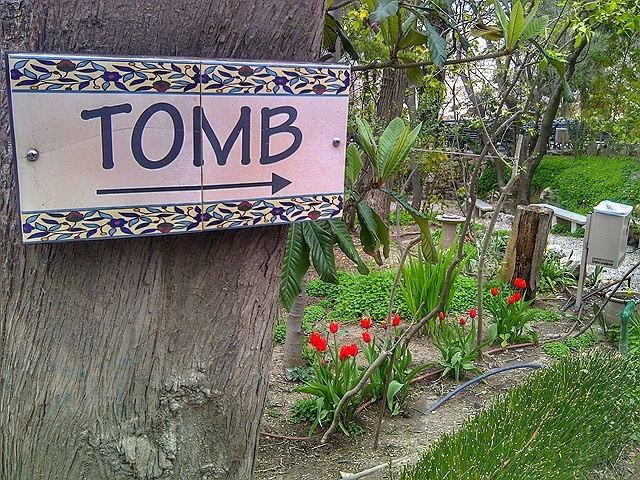 In 1883 British general Charles Gordon was the first to suggest that a hill opposite Damascus gate might be the site of Jesus' crucifixion, an alternative to the traditional site at the Church of the Holy Sepulchre. In further research he also found a tomb near and suggested to be the burial cave of Jesus. The property was purchased in 1894, and is maintained to this day by the "The Committee of the Garden Tomb (Jerusalem) Association" whose center is in London.
Where was Jesus crucified and buried?
The New Testament does not provide many details about the site of Jesus' crucifixion and burial. The site of his execution was called Golgotha (in Aramaic: "Skul") and it was outside the city. The Gospel of John implies it was within a garden, and the tomb used for burial of Jesus was nearby. Since the 4th century CE these sites are identified and venerated in the Church of the Holy Sepulchre, which is in the heart of  today's Christian Quarter of the old City.
Its central location, within the city walls, is one of the reasons that lead scholars to suggest an alternative location for Jesus' crucifixion. The site of the Garden tomb is definitely outside city walls, also today, but apparently so was the site within the Holy Sepulchre. On the other hand the shape of the tomb at the Garden Tomb site suggests it was not from the time of Jesus, while the tomb in the Holy Sepulchre is.
Visiting the Garden Tomb
The Garden tomb is open every day of the week, except Sunday, and welcomes visitors of all faiths. The visit is lead by a local guide and groups of 5 people or more must pre-arrange their visit. Parking in the area is highly limited, and so is public transportation to the site. Even so, and although the site is probably not the site of Jesus' crucifixion, it is a great place to learn and contemplate about the Jesus and his message.
A visit to the site can be combined in a Day Tour of Jerusalem.
Contact us to inquire more about a private tour of Jerusalem: