Church of the Nativity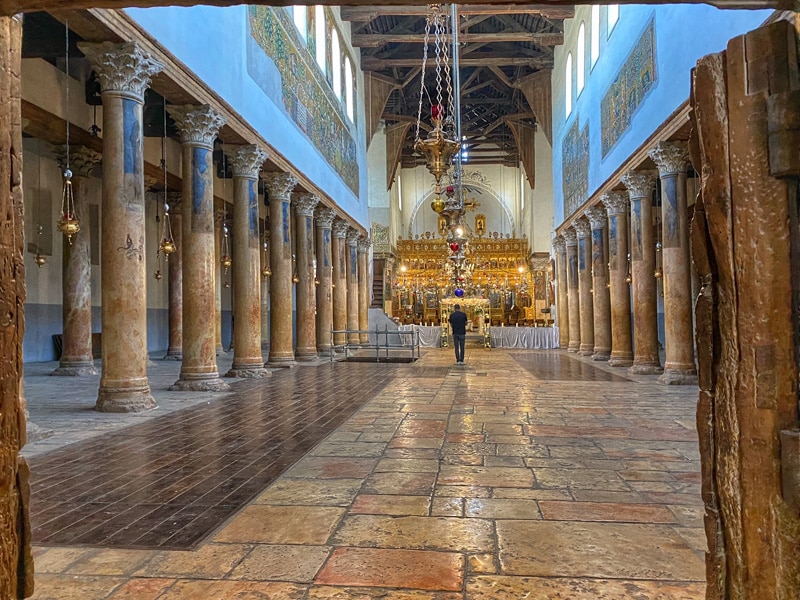 Set at the eastern end of Bethlehem, the church of Nativity is one of the holiest sites in Christendom. By a centuries' old tradition, the crypt beneath the church marks the spot where Jesus was born, and the manger where he was later placed (Luke 2:7). Sanctified since the 4th century, the Byzantine-era church built on top of the holy spot is the oldest church in the Holy Land. Although it has witnessed numerable transformations, it follows to a great extent the 6th century design of Constantine, the same emperor who built the Hagia Sophia. The entry into the church is through a small and low doorway, aptly called 'Door of Humility'.
Its original purpose was to avoid Ottoman horseman from entering the holy site. Inside, deemed light softly illuminates so the church Nave. Some of the its columns are decorated with frescoes of saints that date to the time of the Crusaders. At certain points it is also possible to see the original Byzantine period mosaic floors. However, the focal point of the church is the Grotto of the Nativity, a crypt where a 14 points silver star points to the exact spot of Jesus' birth. Next to it is the small chapel of the manger. During high tourism season the cue to get into the crypt can take an hour and even more.
Other crypts in the church offer more significant events in Christian history. One crypt marks, by local tradition, the burial of the babies killed by the infamous king Herod, an event known as the "Massacre of the Innocence" (Matthew 2:16). Another crypt is said to be where Saint Jerome made the first Latin translation of the bible. The church is split between three denominations – the Catholics, the Greek-Orthodox, and the Armenians. The maintenance and liturgical schedule of each order is zealously following the 'status quo' document. This protocol was established by the Ottomans in 1852, after the silver star over Jesus' birth spot was stolen in 1847.
Touring the Church of Nativity
Bethlehem are under Palestinian control since 1996, and entering it requires a passport. The church is open every day of the week, during daytime, except Sunday morning. Visiting the church requires a modest dress code. With a private guide you can bypass the cue to get into the Grotto of the Nativity.
A visit to the church of Nativity can be combined with a tour of Bethlehem and its surroundings.
Contact us to inquire more about a private tour to the Church of the Nativity: