Moa Nabatean Caravanserai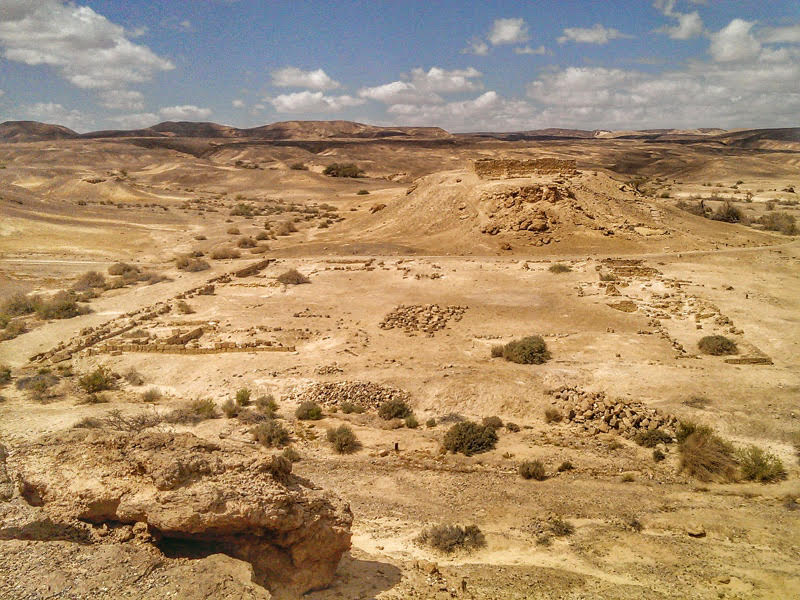 Located in the heart of the Aravah, 1 mile southwest of Tzofar village, Khirbet Moa was the first caravanserai rest stop along the 'Incense Route'  for convoys headed from Petra to the Mediterranean coast. Despite its remote location, the Site bears remains of a large square inn ('Khan'), and a Roman fort constructed on a nearby hill. These remains attest to the lucrative trade of spices and perfumes that once passed through this area.
The Incense Route and the Negev
The 'Incense Route' was a network of ancient roads that enabled transferring precious spices and perfumes across the Arabian Peninsula to the Mediterranean coast. The full length and exact path of the Incense Route is still not fully known. It began somewhere in Yemen, passed through Mecca, Medina, Petra, and ended in the ports of Gaza and El-Arish. The path from Petra to the Mediterranean coast is better documented. It passed the Aravah and the traversed through the heart of the Negev, including a difficult cross of the Ramon Crater. Today, the route and its related sites UNESCO World Heritage Sites.
Contact us to inquire more about a private tour to Moa: