Private Tour to Petra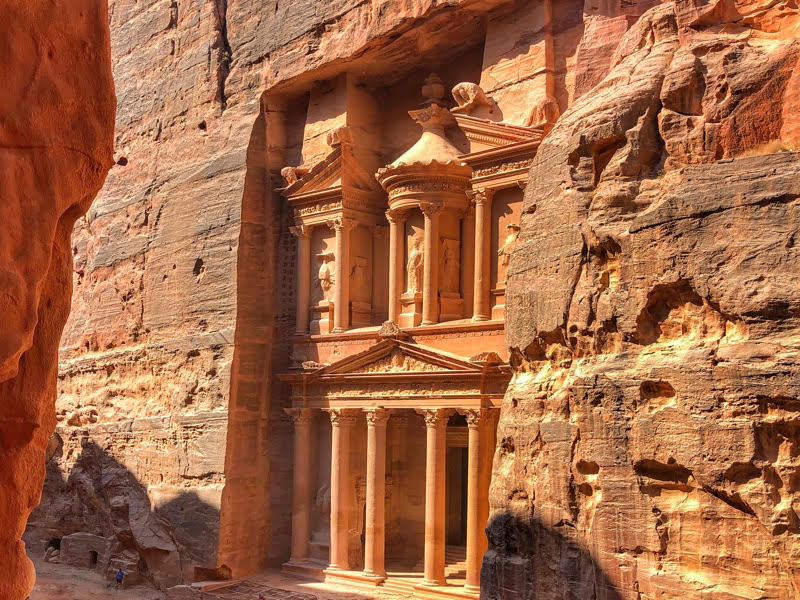 Hidden in a mountainous ridge north of the Red Sea, the legendary city of Petra is Jordan's most spectacular archaeological site and tour destination. This 'Rose Red City' was established by the Nabatean and flourished also in the Roman and Byzantine periods. Today, its grand tomb facades carved in the colorful sandstone attract millions of tourists from all over the globe.
A Short History of Petra
About two thousand years ago a nomadic tribe called Nabateans discovered the commercial potential in trading with incense and spices. They successfully traversed through the Saudi Arabian Peninsula with caravans of camels, shipping the goods from Yemen and East Africa to the Roman markets. And they made a fortune! Their extreme wealth was lavishly spent on showy tomb facades, carved in the colored sandstone around their capital – Petra. Sadly, their period of fortune didn't last beyond the 1st century CE. The Romans managed to control the trade routes, and by 106 CE they annexed Petra and Nabatea to the Roman Empire. Petra would continue to be in use for a few centuries, but eventually it was abandoned, and even its location wad forgotten.
Touring Petra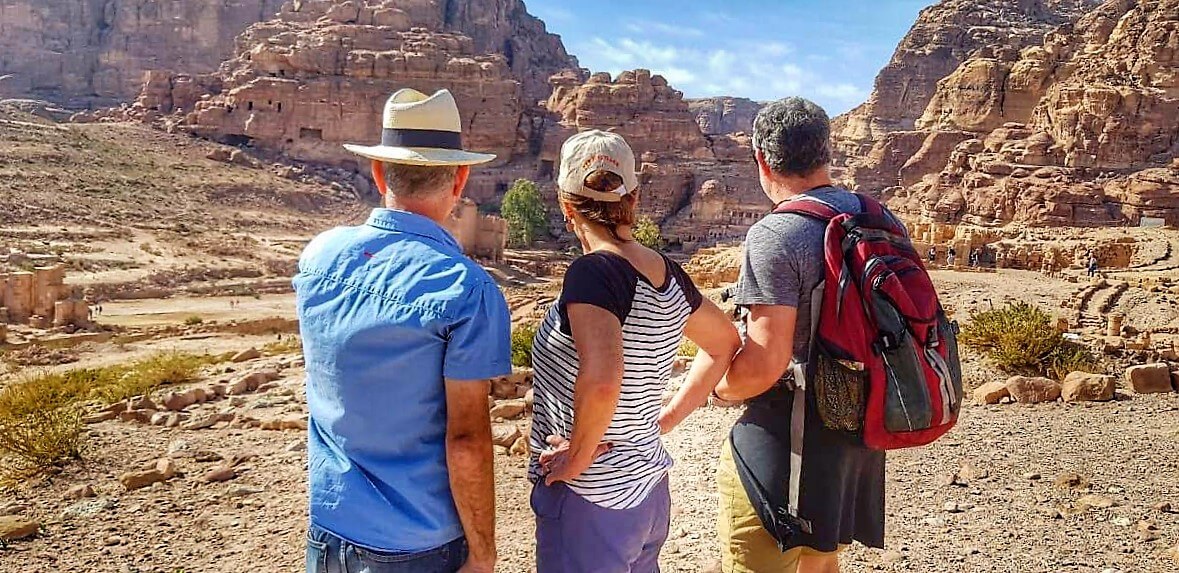 The ancient city of Petra is reached from the east, after a spectacular walk in a gorge (the Siq), ending in the iconic tomb façade called The Treasury (In Arabic – Al-Khazneh). Beyond it, additional large sized tomb facades lead you into the ancient city. The main street cobblestone is still intact, as well as its main temple (In Arabic – Qasr el-Bint). Various expeditions have uncovered some of Petra's public buildings, but most of the city is still waiting to be excavated. An extension of the tour can include the a long hike to the Monastery (In Arabic – Ad Deir) , the High Place of Sacrifice. Around Petra are the Tomb of Aaron and Moses' Spring (In Arabic –  Ayn Musa), which links Petra also to the Holy Scriptures.
Setting a Tour to Petra from Israel
Being in the Hashemite Kingdom of Jordan, the visit requires arranging a visa into Jordan in advance. Most will prefer a 1 day tour of Petra from Eilat, but we really recommend spending at least one night in Jordan to fully appreciate this site, especially if you are coming from Tel-Aviv.
Contact us to inquire more about a private tour from Israel to Petra: