The Tomb of Samuel / Nabi Samwil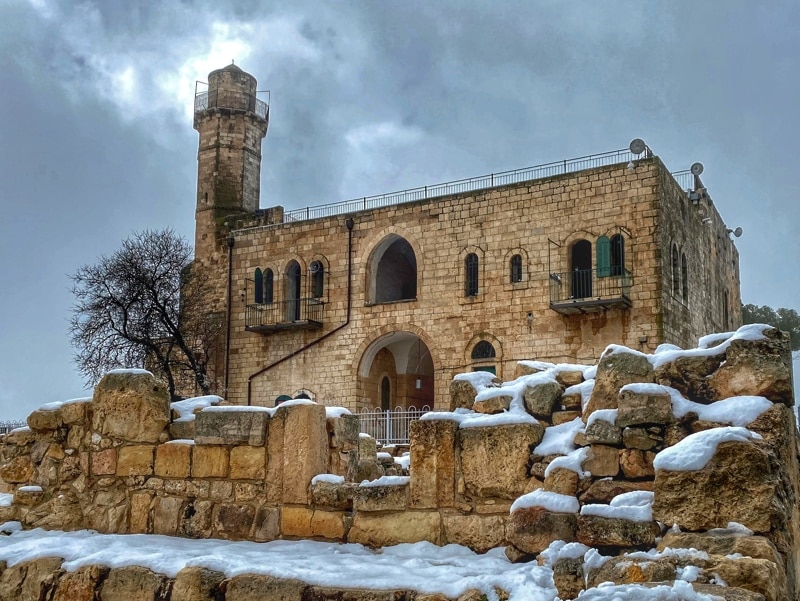 Nabi Samwil is a historical site on a mountain top 6 miles from Jerusalem's old city. A tradition that developed in the Byzantine period places here burial of prophet Samuel. Being sacred to Jews Christian and Muslims, the structure over the sacred tomb is a both a mosque, a synagogue, and a former church.
History of the Tomb of Samuel
Samuel was a leading figure in the Bible in the significant transitional period of re-uniting the tribes and establishing monarchy. He anointed both King Saul and King David. Samuel's hometown was in a site called "Ramah", which is also where he was buried (1 Sam. 25:1, 28:3). "Ramah" which means in Hebrew "A high place" suits well the location of Nabi Samwil, about 3000 feet above sea level. The first to mention Sameul's tomb here was a Byzantine period pilgrim by the name Theodosius. It seems that the Christians also established monastery at the site. After the Muslim conquest of the Holy Land the site continued to be venerated by Muslims, who also established a pottery workshop at the site. On June 7th 1099 the Crusaders forces camped at the site, and from its top saw, for the first time, their final destination – Jerusalem. Rejoicing at the view of Jerusalem, the Crusaders named the site "Montjoie" – "The mountain of rejoice". At a later stage they transformed the mountaintop to a fortified church complex. Crusader era pilgrim record how pilgrims would walk by foot from here to Jerusalem, some even barefoot.
Where Richard Lionheart Became Broken-Heart
In 1187 Saladin conquered the site and turned the church into a mosque. Later he allowed Richard the lionheart to watch Jerusalem from here, which he did in tears for Jerusalem was again lost to the Muslims. The site would remain in Muslim hands until the Six-Day War in 1967. Since then the site is under Israeli sovereignty and is open to people of all faiths.
Touring Samuel's Tomb / Nabi Samwil
The site is a national park. Its hilltop was excavated in the 1990's, uncovering mostly Crusaders' era fortifications. The church which became a mosque is still intact, and the view from its rooftop is truly breathtaking. Both Jerusalem, Tel-Aviv, and the Mediterranean Sea are visible on a good day. A cenotaph in the mosque is venerated by the Muslims as Samuel's tomb. Another cenotaph on a lower floor is venerated by Jews as Samuel's burial site.  It is open every day of the week, free of charge.
A tour of Nabi Samuil can be combined with a guided day tour of Jerusalem
Contact us to inquire more about a private tour to Prophet Samuel's Tomb: