Best 10 Street food in Israel
While traveling in any country you usually want to combine fine dining with some quick and inexpensive street food experiences. Perhaps, the most famous street food in Israel is falafel. However, it is definitely not the only authentic option, and frankly speaking Falafel's hey days are over. Nowdays we, Israelis,  really favor a good Hummus or Shawarma. Here's a list of the top 10 Israeli street food dishes, and where the best of them are while touring Israel!
(Latest update: April 2021)
Hummus in Israel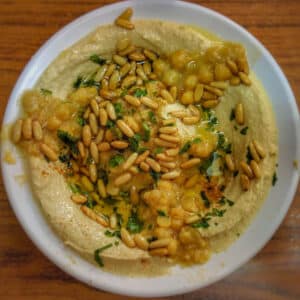 This rather simple dish, made up mostly of warm, mashed chickpeas and Tahini is so popular in Israel, some venerate it as a holy dish (including us!). It originates from the local Arab kitchen, but being a healthy and inexpensive dish, over the years it gained much popularity among the Israelis as well. It's served most often with garlic, lemon, olive oil, and other toppings like cooked chickpeas, Egyptian ful (a big black lentil), raw onion, fried pine nuts or a hard-boiled egg. Hummus is often eaten as a light lunch, wiped off the plate with some fresh pita bread. The ultimate hummus sanctuary in Jerusalem is called Arafat, and is located in the heart of the Old City. Other good Hummus options in Jerusalem are Achramawi and Habib. In Tel-Aviv our most favorite Hummus place is Abu Hassan in, and if you get to Akko, make sure to try Hummus Said.
Don't even think it is the packaged dish you once got in the supermarket. Fresh and good Hummus is a totally different experience!
Falafel in Israel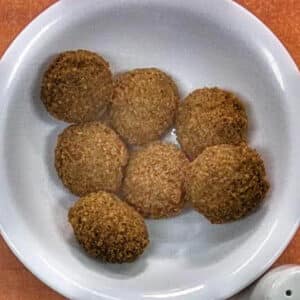 The king of street food in Israel from the 1980's can still be found in certain food stands, but not all will provide "the real thing". A great falafel sandwich consists of freshly deep-fried balls made up of ground and seasoned chickpeas, tucked in a warm pita bread, with fresh Israeli salad and a generous amount of tahini. Thin fried slices of eggplant or potatoes can be added as well. Did we clarify the importance of freshness? If the falafel were pre-made, walk away!
Our favorable places are Abu hani Jabali in Nazareth, Usul in Rosh Pina, and Hakosem in Tel-Aviv.
Shawarma in Israel
One of the few gastronomic contributions of the Ottomans still appreciated in this region is Shawarma (it's name derives from the Turkish word "Cevirma" – to turn). Shawarma is thin, yet fatty slices of marinated chicken, turkey lamb, veal or combinations of them. It's shaved off a big skewer slowly rotating against the grill, accompanied with salad, pickles, a generous amount of tahini, and served in pita, lafa (a big flat pita), baguette, or on a plate. Unfortunately, despite the popularity of the dish, only a few Shawarma stands are really good. Those include Daboush, Hakosem and Bino in Tel-Aviv, and Abu Hani in Nazareth.
Some like adding amba (pickled mango and chillies) to this dish. We don't! And you will definitely smell of it for the rest of the day.
Shakshuka in Israel
A common dish, that is now served in many hotels throughout Israel for breakfast, was introduced by the Tunisian Jews. Sadly, in most cases, the hotels are doing injustice to this great dish. Shakshuka is made of poached eggs laid over a boiling pan of seasoned tomato sauce, mixed with vegetables. Freshness is critical, and if the yolks are not runny, you are NOT having the real thing!.
For the best Shakshuka in Tel-Aviv, go to "Dr. Shakshuka" located in the flea market near Jaffa. Their dish with extra eggplant is the best!
Jerusalem Bagel
Perhaps the most basic street dish in the Old City of Jerusalem. This $2 round and elongated baked bagel with sesame seeds is a simple but filling snack to keep you going till lunch. Don't go for the stands in Jaffa gate or Damascus gate. Wait until you pass by a bagel bakery in the Muslim or Jewish quarter, where you get it fresh, with some ground and salted hyssop (Za'atar).
Some will eat it with a big and cold Falafel ball or Kubeh. Not a must.
Jerusalem Mixed Grill
This dish was really an improvisation of the Jews of Jerusalem during the years of siege and shortage. Taking the less attractive parts of the chicken and frying them with a lot of garlic, onions and other spices, to make it more eatable. But, like the Israeli Couscous (Ptitim), this poor man's food surprisingly developed a culinary reputation, and is now a popular dish in several restaurants. You can find it mostly in Jerusalem's main market, in places like Sima and Hatzot Steak House.
Israeli Breakfast
Unless you are going to stay with relatives, you will probably experience an Israeli breakfast every morning at your hotel. The meal usually combines fresh pastries and bread, an omelet, various dairy products, orange juice, coffee, and of course – an Israeli Salad (seasoned and chopped tomato, cucumber, onion and parsley). If you are not staying in a hotel there are several coffee shops serving a similar experience. The best in Tel-Aviv is Benedict, and the best in Jerusalem will be Kadosh. The best coffee chains are Landver, Roladin, and if you are just looking for a coffee and a pastry, Aroma is a very popular choice.
Slow cooked Israeli Food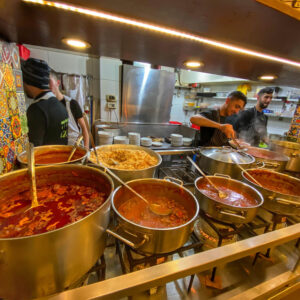 Perhaps the most filling version of Israeli street food are the small restaurants that serve a variety of dishes cooked on a low flame for several hours on top of kerosene burners. They are especially common in Jerusalem, mostly in the Mahane Yehudah market, serving dishes like Sofrito, Musaka, stuffed vegetables and Kubbeh Hamusta soup. The iconic places for this food are Azura, Rachmo, Pinati, and Taami, all in Jerusalem.
Sadly, as a tourist it is virtually impossible to find the most common slow cooked Israeli dish called "Hamin" or "Tzulnt" for the simple reason it is only made at religious Jewish homes, and only for Shabbat lunch.
Sophisticated Israeli Street Food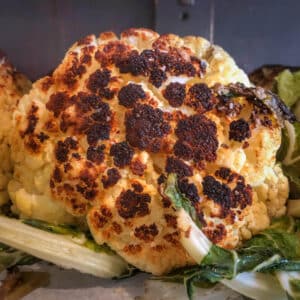 While the Israeli street food is simple yet satisfying, you can count on Tel-Aviv and its chefs to develop a trend of what we like calling "sophisticated Israeli street food." Perhaps the most popular is the pita counter of celebrity chef Eyal Shani Miznon (Hebrew for "Canteen"), Shani truly redefined the fill of pita bread. Whether it's a vegetarian sandwich or some kebabs, these dishes are such a delight, especially with some of his great tomato juice and tahini nibbles. And don't miss his amazing roasted head of a cauliflower. You would not believe how good it is. Trust us.
Knafeh In Israel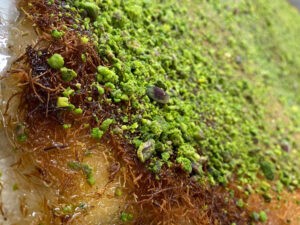 Besides Shawarma, another blessed contribution of the Ottomans to the local kitchen is a sensational dessert called knafeh ("Kuneifeh" in Turkish). It's made of a sweet cheese beneath a crusty layer of extra thin noodles sprinkled with chopped pistachios and soaked in flavored sugar syrup. What a delight! The most famous knafeh shop in Jerusalem is Jaffar Pastery Cafe in the Muslim Quarter. There are also several pastry shops in Nazareth and Akko serving this treat.
Fresh-Squeezed Pomegranate Juice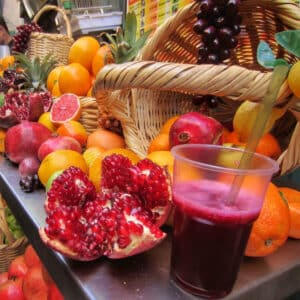 Fresh-squeezed pomegranate juice is not street food yet deserves a mention, as it is one of the most delightful local and authentic drinks you can have when touring Israel. Offered at many vendor stands in the  of Jerusalem, a fresh-squeezed pomegranate juice is an injection of health to your heart and blood system. True the taste can be sharp, but if you ask to add a squeezed orange juice you get the prefect combination!. Just make sure you agree on the price first, as at off-season the cost of the drink can double itself.
Other Israeli Dishes Worth a Note:
Shipudim –  Israeli street barbecue.
Schnitzel  – Breaded Chicken breast.
Chraime  – Fish in spicy tomato sauce.
Hamin – A stew of potatoes, beans, barley and meat simmered for 12 hours. Served only on Shabbath.
Sabich  – Egg, eggplant, potato and parsley sandwich.
Hallah – Braided sweet bread made only on Fridays.
Bourekas –  Stuffed Phyllo dough usually with savory cheese or mushed potatoes.
Rougelach  – Chocolate flavored small pastry.
Krembo – Chocolate coated marshmallow creme-like foam on a biscuit.
Ptitim – Small pearl shaped pasta invented by order of Ben-Gurion, known now as "The Israeli Kouskous".
Bamba – Popular peanut butter based snack.
Sabres  – Fruit of the prickly pear.
Kafe Turki  – Israeli strong black Coffee.
And for those in a need of a gluten free menu – check out this list