The Israel Museum
Set in the heart of Jerusalem, the Israel Museum is the largest cultural institution in the state of Israel. Its rich exhibits cover a wide range of topics, yet most significant are its Biblical archaeology and Jewish art and life wings.
History of the Israel Museum
In the British Mandate period, the main archaeological museum in the region was the Rockefeller museum. In 1965 the state of Israel decided to establish a new museum, in western Jerusalem. It would display the Dead Sea Scrolls and other prime archaeological finds, as well as the cultural heritage of Judaism, International and local art, and more. The museum was established along Givat Ram ridge, next to the Israeli Parliament building (the Knesset) and Hebrew University campus. Its design of unordered square shaped galleries, combined elements of the contemporaneous style of exposed cement. The exhibit of the Dead Sea Scrolls was designed separately, in a building that was titled the Shrine of the Book. In 2010 the museum completed a comprehensive renovation of its premises. At the cost of USD$ 100M, its main wings were remodeled and enlarged, as well as its main entrance and public areas. Moreover, next to its art garden, a 1:50 scale model of Jerusalem in the first century CE was added.
Christianity in the Israel Museum
Among others, the Israel Museum exhibits some of the most significant finds that relate to early Christianity. The Dead Sea Scrolls, presented in the Shrine of the book, reflect a community whose social structure is very similar to the early Christians documented in the Book of Acts. Furthermore, many scholars believe John the Baptist was a member of the people who wrote the Dead Sea Scroll (see also a video on this here). Next to it is a 1:50 scale model of Jerusalem in the first century CE. Among others, it presents sites mentioned in the New Testament. The Pool of Siloam, Bethesda pools, the site of Jesus' trial (the praetorium), where he was crucified (the Golgotha), and more.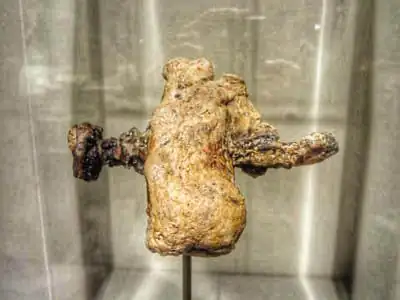 But the most significant items relating to Christianity are on display in the museum's archaeological wing. Three artifacts lined up In the Roman period gallery present the most tangible finds relating to historical Jesus. The first is the bone box of Caiaphas, the High priest who interrogated Jesus, the Second is a Latin Inscription mentioning Pontius Pilate, the Roman governor who condemned Jesus to death. The third is the pierced leg of the Crucified man from Jerusalem. Found in 1968, it is still the only archaeological evidence of crucifixion in Roman times.
Touring the Israel Museum
The Museum is open every day of the week, including on Saturday.  For a full appreciation of the museum is it highly recommended to hire a guide.
A tour of the Israel Museum can be combined in a  day tour of Jerusalem.
Contact us to inquire more about a private tour of the Israel Museum: