Majrase Nature Reserve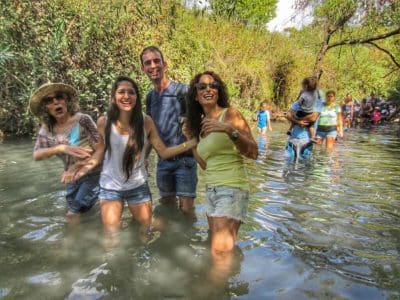 Located in a lush area along eastern shore of the Sea of Galilee, the Majrasa Nature reserve is a fun and wet activity for the whole family. The slow flow of fresh water at the end of Daliot stream forms a path of half a mile of an easy walk through its shallow water suitable for all ages.
It is a family-friendly route, passing through thick vegetation and random aquatic wildlife in one of the most beautiful spots around the Sea of Galilee.
Hiking in the Majrase Nature Reserve
The Majrase Nature Reserve is a national park. It is open every day of the week and has an entry fee. At the starting point there are changing rooms, toilets and drinking water. The "wet route" goes through the stream's water and the return is through the "dry route". It is recommended to bring water shoes, and floaties for the younger children.
A hike through the Majrasa stream can be combined with a guided day tour of the Galilee.
Contact us to inquire more about a private tour of the Majrase: