Ramesses II's Gate Garden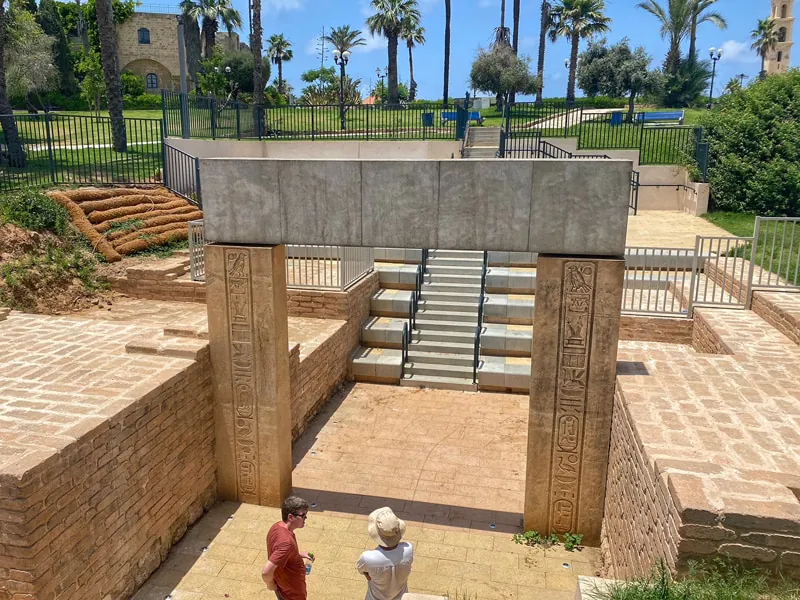 Ramesses the 2nd Gate Garden is a tranquil park in the center of Old Jaffa. It is named after Ramasses II, whose fragments of a triumphal arch were uncovered in the park in the 1960s.
Jaffa and the Egyptian Pharaohs
In Canaanite times Jaffa was a Canaanite city, but all of Canaan was under Egyptian control. This is best attested in the Amarna Letters, a cache of documents dating to the mid-14th century BCE, that document in detail Egyptian political and military involvement in Canaan. Archaeological evidence of Egyptian presence Canaan was also documented in key sites like Megiddo, Beit-She'an, Aphek, and more.
In the 1960s, excavation in old Jaffa yielded another further evidence in the form of a fragment of an Egyptian Triumphal arch. Kartushes inscribed on the fragment, dated the arch to time of Ramasses II, one of the greatest Pharaohs in Egyptian history.  Some scholars suggest the Exodus took place during his reign.
The Garden in the 20th century
During the British Mandate Period Jaffa operated an important port, yet in 1936 the Arabs revolted against the British presence and policy in Palestine. One of the centers of the revolt was Jaffa. In return, the British gave the Arabs of Jaffa a 24-hours warning, and then blew up most of the city's center. In the 1940s most of the jaffa was in ruins, and in the 1948 Israeli-Arab war, the remaining Arab population of Jaffa left. After a decade of negligence, in the 1960's excavations were carried out throughout Jaffa, and later it developed into an artist colony with parks and gardens.
Touring Ramasses II's Gate Garden
The Ramasses II's Gate Garden is spread over the central part of Jaffa. It can be reached from several points of the old city, and its summit offers breathtaking views of Tel-Aviv and the coastal plain. A reconstruction of Ramasses II's triumphal arch is presented in the heart of the garden, set among several additional archaeological discoveries. The garden is a perfect place  to start, or end, a tour of old Jaffa.
A tour to Ramassess II's Gate Garden can be combined with a guided day tour to Jaffa and Tel-Aviv.
Contact us to inquire more about a private tour of Jaffa: