Umm ar-Rasas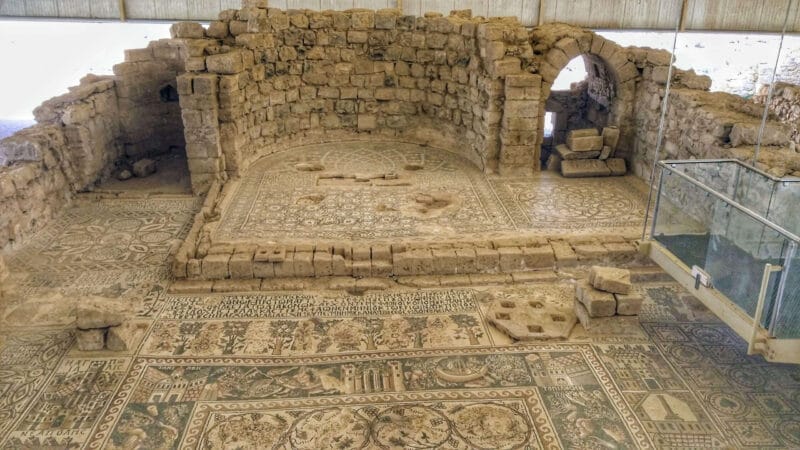 Located 10 miles east of biblical Dibon and the Kings' highway, Umm ar-Rasas (Arabic: 'Mother of the Bronze') was a Moabite city called Meiphat (Jeremiah 48:21). In the Roman period it developed into a military camp. Named by th Romans 'Caston Mephaa' it was part of the Roman defense line along their eastern frontier ('Limes Arabicus'). A civilian village that developed next to Roman camp was also inhabited in the Byzantine period. However, after the Muslim conquest of the region, the site gradually declined and eventually it was abandoned. The village's Byzantine-era churches were excavated by a Franciscan expedition in the 1980s.  They proved to bear well preserved mosaic floors with detailed images. Most significant was the mosaic of Saint Stephan church. Dating to 785 CE, it is largest mosaic floor found in Jordan, depicting a combination of fishing scenes and cities in the Holy Land. Some of the mosaics included evidence for iconoclasm – defacement of the images of figures. Scholars debate if this was in internal Christian reform or forced upon them by the Muslims after the Muslim conquest. In 2004 Umm ar-Rasas was declared a World Heritage site by UNESCO.
Touring Umm ar-Rasas
The site is open every day of the week, free of charge. At first sight it doesn't seem attractive as most of the site is still in ruins. Yet following the trails to the covered areas unveils the valuable and beautiful mosaic floors. And don't miss the 43 feet high stylite tower, 1 mile north the village. It is estimated that a hermit lived on its top in the Byzantine period, respected and perhaps even venerated for such an ascetic lifestyle.
A tour of Umm Ar-Rasas can be combined with a multi-day tour of Jordan.